==
ATTENTION: Because of the increasing requests for exorcisms and not enough exorcists, we are recruiting seminarians, priests, bishops, and Christian paranormal investigators for membership in The Sacred Order of Saint Michael the Archangels. Join us in the battle of good versus evil. Visit our website:
www.ghostterminators.com
or e-mail us at:
info@ghostterminators.com
==
Did you know there are over 15,000 exorcisms performed annually?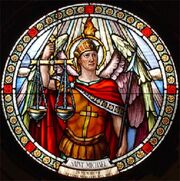 Chief Exorcist and Catholic Archbishop Ron Feyl is the Presiding Bishop of The Sacred Order of Saint Michael the Archangel, Chief Exorcist for the Order of Exorcists and many other jurisdictions within the Order.  Because of the growing number of demonic possession cases, the Order now has clergy members from many jurisdictions, here and around the world, working together in the fight of good versus evil. 
The Order of Exorcists is always recruiting new members for the battle of good versus evil. In anyone is interested in joining the Order of Exorcists, they should review the Membership page at www.ghostterminators.com