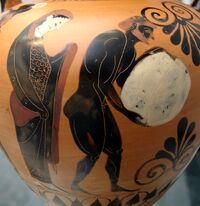 Underworld is a region in some religions and mythologies which is thought to be under the surface of the earth.[1] It could be a place where the souls of the recently departed go, and, in some traditions, it is identified with Hell. In other traditions, however, such as animistic traditions, it could be seen as the place where life appears to have originated from (such as plant life and water) and a place to which life must return at life's end, with no negative undertones.
See also
References
Ad blocker interference detected!
Wikia is a free-to-use site that makes money from advertising. We have a modified experience for viewers using ad blockers

Wikia is not accessible if you've made further modifications. Remove the custom ad blocker rule(s) and the page will load as expected.