Ad blocker interference detected!
Wikia is a free-to-use site that makes money from advertising. We have a modified experience for viewers using ad blockers

Wikia is not accessible if you've made further modifications. Remove the custom ad blocker rule(s) and the page will load as expected.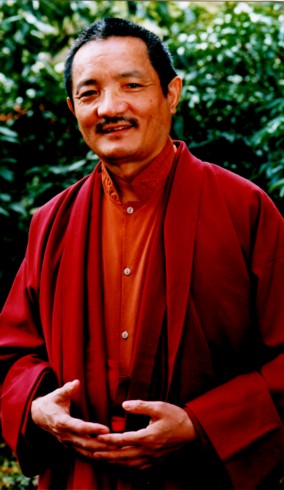 Tulku Thondup Rinpoche was born in Golok in Amdo in 1939. He was recognised at the age of four as the reincarnation of a famous scholar of the Dodrupchen monastery, Konme Khenpo. Thondup Rinpoche entered Dodrupchen monastery and studied various Buddhist texts, becoming the monastery's ritual master (Dorje Lobpon). In 1958 he moved to India, teaching from 1967-76 at Lucknow University and from 1976-80 at Visva-Bharati University. In 1980 he went to the USA, and was a visiting scholar at Harvard University. He now works at translation of and research into Tibetan Buddhist texts, especially those of the Nyingma lineage tradition, under the auspices of the Buddhayana Foundation, and has published various books, among them Hidden Teachings of Tibet (on terma); Buddhist Civilisation in Tibet; The Practice of Dzogchen (Longchenpa on Dzogchen), and Enlightened Living (on ethical conduct).
Publications
Tulku Thondup, The Practice of Dzogchen, Ithaca: Snow Lion, 1989
Tulku Thondup, Enlightened Journey—Buddhist Practice as Daily Life. Edited by Harold Talbott. Shambhala Publications, 1995
Tulku Thondup, Masters of Meditation and Miracles, edited by Harold Talbott, Boston: Shambhala, 1996
Tulku Thondup, Enlightened Living, Rangjung Yeshe Publications ISBN 9627341307
Tulku Thondup, Hidden Teachings of Tibet: An Explanation of the Terma Tradition of the Nyingma School of Buddhism, Boston: Wisdom, reprint edition 1997
Tulku Thondup, Healing Meditations, Shambhala, 1998, ISBN 1-57062-372-4
Tulku Thondup, The Healing Power of the Mind, Shambhala, 1998 ISBN 1-57062-330-9
Tulku Thondup, Boundless Healing, Shambhala, 2001 ISBN 1-57062-878-5
Tulku Thondup, Peaceful Death, Joyful Rebirth, Shambhala, 2005 ISBN 1-59030-182-X
External Links