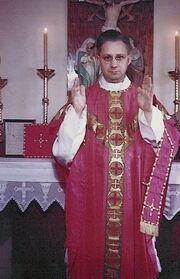 The Tridentine Mass is a common name for the form of the Roman Rite Mass contained in the typical editions of the Roman Missal that were published from 1570 to 1962. In this time period, it was the most widely celebrated form of the Catholic liturgy in the world.
The term "Tridentine" is derived from the Latin word Tridentinus, which means "related to the city of Trent, Italy". It was in response to a decision of the Council of Trent that Pope Pius V promulgated the 1570 Roman Missal, making it mandatory throughout the Western Church, excepting those regions and religious orders whose existing missals dated from before 1370.


In 2007, Pope Benedict XVI's Summorum Pontificum designated the 1962 edition of the Tridentine Mass "an extraordinary form of the Roman Rite", a term that has begun to be used as a name for this form of Mass. Other names include Traditional Mass and Latin Mass - though the revised form of the Mass that replaced it also has its official text in Latin, and is sometimes celebrated in that language.


In Masses celebrated without the people, Latin Rite Catholic priests are free to use either the 1962 version of the Tridentine liturgy, or what is now the "ordinary" form of the liturgy. These Masses "may - observing all the norms of law - also be attended by faithful who, of their own free will, ask to be admitted."
Permission to use the Tridentine Mass in parish Masses may be given by the parish priest.

more about Tridentine rite
Ad blocker interference detected!
Wikia is a free-to-use site that makes money from advertising. We have a modified experience for viewers using ad blockers

Wikia is not accessible if you've made further modifications. Remove the custom ad blocker rule(s) and the page will load as expected.