Transfiguration (Raphael)
Talk

0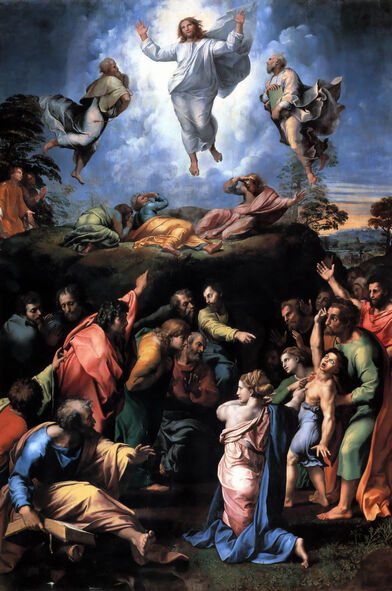 The Transfiguration
is considered the last painting by the Italian High Renaissance master Raphael. It was left unfinished by Raphael, and is believed to have been completed by his pupil, Giulio Romano, shortly after Raphael's death in 1520. The picture is now housed in the Pinacoteca Vaticana of the Vatican Museum in the Vatican City.
History
This painting was created by Raphael and was believed to express a connection between God and his people.
The Transfiguration was created in 1516 and is another high end altarpiece. It was commissioned by Cardinal Giulio de Medici who was made arch bishop of Narbon and became Pope Clement VII.
At the time when Raphael was commissioned to paint the Transfiguration he was still doing the other commissions, the Stanze and the cartoons of the life of St Peter, three palaces and a villa. So Giulio de Medici commissioned Sebastioano di Piombo to paint the "Raising of Lazarus" to spur Raphael on.
Following Raphael's premature death in 1520, the cardinal retained the picture rather than send it to France. He subsequently donated it to the church of San Pietro in Montorio, Rome. It was taken by French troops to Paris in 1797, but after 1815 it was brought to the Vatican, to its present location.
A mosaic copy of the painting was installed in St. Peter's Basilica in the Vatican City in 1774.
Depiction
The composition is divided in two distinct parts, relating to successive episodes of the Gospel of Matthew. The upper part of the painting shows the Transfiguration itself (on Mount Tabor, according to tradition), with the transfigured Christ floating in front of softly illuminated clouds, between the prophets Moses and Elijah with whom he is discoursing as recorded in the account of Matthew.
In the lower part, Raphael depicts the Apostles attempting, unsuccessfully, to free the possessed boy of his demonic possession. They are unable to cure the sick child until the arrival of the recently-transfigured Christ, who performs a miracle.
Analysis and interpretation
Raphael's Transfiguration can be considered a prefiguration of both Mannerism, as evidenced by the stylised, contorted poses of the figures at the bottom of the picture; and of Baroque painting, as evidenced by the dramatic tension imbued within those figures, and the strong use of chiaroscuro throughout.
On the simplest level, the painting can be interpreted as a depicting a dichotomy: the redemptive power of Christ, as symbolised by the purity and symmetry of the top half of the painting; contrasted with the flaws of Man, as symbolised by the dark, chaotic scenes in the bottom half of the painting.
The philosopher Nietzsche interpreted the painting in his book The Birth of Tragedy as an image of the conflict between Apollonian and Dionysian principles.
The sixteenth century painter and biographer, Giorgio Vasari, wrote in his Lives of the Artists that the Transfiguration was Raphael's "most beautiful and most divine" work.
References