Ad blocker interference detected!
Wikia is a free-to-use site that makes money from advertising. We have a modified experience for viewers using ad blockers

Wikia is not accessible if you've made further modifications. Remove the custom ad blocker rule(s) and the page will load as expected.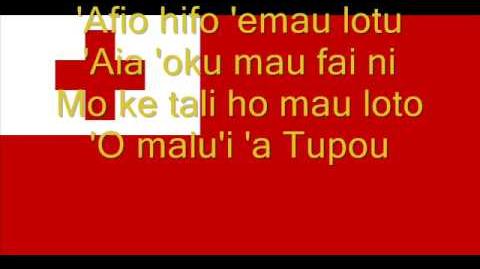 The Kingdom of Tonga (English pronunciation: /ˈtɒŋɡə/; Tongan: [toŋa]) is an archipelago in the South Pacific Ocean comprising 169 islands, 36 of them inhabited, stretching over a distance of about 800 kilometres (500 miles) in a north-south line. The islands lie south of Samoa, about one-third of the way from New Zealand to Hawaii.
Tonga, the only sovereign monarchy among the island nations of the Pacific Ocean, has the distinction of being the only island nation in the region to have avoided formal colonization.
The world also knows the islands of Tonga as the Friendly Islands because of the friendly reception accorded to Captain Cook on his first visit in 1773. He happened to arrive at the time of the ʻinasi festival, the yearly donation of the first fruits to the Tu'i Tonga, the islands' paramount chief, and was invited to the festivities. According to the writer William Mariner, in reality the chiefs had wanted to kill Cook during the gathering, but were unable to agree on a plan.
Religion in Tonga
Tonga is a Christian-majority country. The constitution declares that Sunday is a sacred day and will remain so forever. All business and entertainment comes to a halt at midnight on Saturday and can not resume until midnight on Sunday. According to the 2006 census, Tonga's population is 37% Methodist, 17% Mormon and 16% Roman Catholic. Approximately 0.1% of Tongans are Buddhists.
References
External links
| | |
| --- | --- |
| | This page uses content from the The Dhamma Wiki.'Dhamma Wiki content is released in the public domain. The Dhamma is free. The Buddha did not hold copyrights either. The sharing of the Buddha Dhamma is solely for the purpose of prolonging the buddhasasana through release. |
| | |
| --- | --- |
| | Religion Wiki uses embedded video content from YouTube.com. We do not host or upload any videos, films, or media files. Therefore, Religion Wiki is not responsible for the accuracy, compliance, copyright, legality, decency, or any other aspect of the content of other linked sites. If you have any legal issues please contact the appropriate media file owners / host sites. |