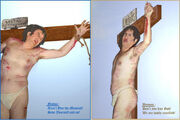 When looking at the hill of Calvary, we tend to focus a great deal on the middle cross, the one on which the Christ was nailed. But two other men were also nailed on crosses that day. They were two thieves whose names, according to the tradition, were Gestas and Dismas. That the two thieves were condemned to crucifixion, confirms that they were notorious criminals. Crucifixion was an excruciating and humiliating death penalty reserved for the most grave crimes. Being already crucified, Gestas, one of the criminals, blasphemed and insulted Christ, by saying, "If You are the Messiah, save Yourself and us." His cross was certainly a cross of rebellion, he rejected to admit that he had been crucified with justice. He only desired the salvation of the humiliating pain that he was suffering on the cross. He wanted to be saved of the death. But his pain was not taken away. On the contrary, Dismas, the other thief, answered and rebuked him, by saying, "Do you not even fear God, seeing you are under the same condemnation? And we are indeed justly crucified, for we receive the due reward of our deeds, but this Man has done nothing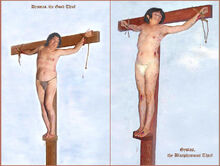 wrong." Dismas recognised that he was guilty, that he had been justly crucified. His cross was a cross of repentance. He admitted that his previous miserable life had conducted him to that tragic end, but that he was still on time to save his soul. His sufferings were not so important as the salvation of his soul. As his life was ending, he realized the error of his way in the life. But to get his sins were forgiven, he realized that he could not do it on his own. He realized that he needed a Saviour. And a Saviour hung on the cross next to him. Dismas received with immense happiness the answer of Christ : "Assuredly, I say to you, today you will be with Me in Paradise". This sentence is considered to be The Second Word of Christ of a total of seven times that Christ spoke while He hung upon the cross.
When finally, after several hours of horrible agony, the executioners came to break their legs with clubs and hasten their deaths (crurifragium ), Gestas was full of rage and desperation, while Dismas was calm and full of hope. The two thieves had been losers all their lifes, but in their last moments one of them, Dismas, felt in his heart that Christ had looked at him with acceptance and love.
Ad blocker interference detected!
Wikia is a free-to-use site that makes money from advertising. We have a modified experience for viewers using ad blockers

Wikia is not accessible if you've made further modifications. Remove the custom ad blocker rule(s) and the page will load as expected.