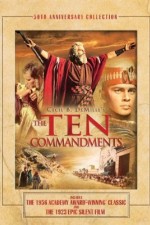 The Ten Commandments
is a 1956 American motion picture that dramatized the biblical story of Moses, an adopted Egyptian prince-turned deliverer of the Hebrew slaves. It was released by Paramount Pictures in VistaVision on October 5, 1956. It was directed by Cecil B. DeMille and starred Charlton Heston in the lead role. Co-stars included Yul Brynner as his adoptive brother, Pharaoh Ramesses II, Anne Baxter as Nefretiri, John Derek as Joshua, Edward G. Robinson as Dathan, Yvonne De Carlo as Sephora, Cedric Hardwicke as Pharaoh Seti I, Vincent Price as Baka, and John Carradine as Aaron.

You can watch the full movie here. The movie is divided in 2 parts.
see also
---
Ad blocker interference detected!
Wikia is a free-to-use site that makes money from advertising. We have a modified experience for viewers using ad blockers

Wikia is not accessible if you've made further modifications. Remove the custom ad blocker rule(s) and the page will load as expected.