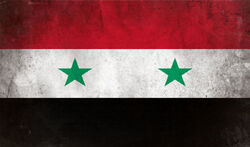 The Syrian Arab Republic (Arabic: الجمهورية العربية السورية; Al-Jumhūriyyah al-ʿArabiyyah as-Sūriyyah) is a Middle Eastern country, bordered by Israel, Lebanon, Jordan, Iraq, and Turkey.
The capital is Damascus. Other important cities include Aleppo and Hama. Most settlement is near the Mediterranean coast, with the interior consisting largely of steppe
Syria is currently a Ba'athist dictatorship. The government was accused by many of playing a role in the assassination of former Lebanese Prime Minister Rafik Harii in 2005. Syria is also responsible for allowing foreign terrorist fighters to enter Iraq through their border and attack American troops.
It is also a destination for victims of human trafficking.
Damascus is an important city for Christians, as it is the city to which the Apostle Paul was travelling upon his conversion. However, it has been mostly Muslim for centuries, and was a part of the Ottoman Empire. When the Ottoman Empire dissolved after World War I, France forcibly took over Syria, then left in 1946, granting it its independence.
People
Ethnic Syrians are of Semitic stock. Syria's population is 90% Muslim--74% Sunni, and 16% other Muslim groups, including the Alawi, Shia, and Druze--and 10% Christian. There also is a tiny Syrian Jewish community.
Arabic is the official, and most widely spoken, language. Arabs, including some 500,000 Palestinian and up to 1.3 million Iraqi refugees, make up 90% of the population. Many educated Syrians also speak English or French, but English is the more widely understood. The Kurds, many of whom speak the banned Kurdish language, make up 9% of the population and live mostly in the northeast corner of Syria, though sizable Kurdish communities live in most major Syrian cities as well. Armenian and Turkic are spoken among the small Armenian and Turkoman populations.
Most people live in the Euphrates River valley and along the coastal plain, a fertile strip between the coastal mountains and the desert. Overall population density is about 140 per sq. mi. Education is free and compulsory from ages 6 to 11. Schooling consists of 6 years of primary education followed by a 3-year general or vocational training period and a 3-year academic or vocational program. The second 3-year period of academic training is required for university admission. Total enrollment at post-secondary schools is over 150,000. The literacy rate of Syrians aged 15 and older is 88% for males and 74%for females.
Ancient Syria's cultural and artistic achievements and contributions are many. Archaeologists have discovered extensive writings and evidence of a brilliant culture rivaling those of Mesopotamia and Egypt in and around the ancient city of Ebla. Later Syrian scholars and artists contributed to Hellenistic and Roman thought and culture. Zeno of Sidon founded the Epicurean school; Cicero was a pupil of Antiochus of Ascalon at Athens; and the writings of Posidonius of Apamea influenced Livy and Plutarch. Syrians have contributed to Arabic literature and music and have a proud tradition of oral and written poetry. Although declining, the world-famous handicraft industry still employs thousands.
Population (2005 est.)*: 18.6 million.
Growth rate (2005 est.): 2.45%.
Major ethnic groups: Arabs (90%), Kurds (9%), Armenians, Circassians, Turkomans.
Religions: Sunni Muslims (74%), Alawis (12%), Christians (10%), Druze (3%), and small numbers of other Muslim sects, Jews, and Yazidis.
Languages: Arabic (official), English (widely understood in major cities only), Kurdish, Armenian, Aramaic, Circassian.
Education (2005 est.): Years compulsory--primary, 6 yrs. Attendance--97.9%. Literacy--92.5%; 87.9% male, 73.9% female.
Health (2004): Infant mortality rate--17.1/1,000. Life expectancy--68.47 yrs. male, 71.02 yrs. female.
Work force (6.1 million, 2004 est.): Services (including government); agriculture; industry and commerce.
Government
The Syrian constitution vests the Arab Ba'ath Socialist Party with leadership functions in the state and society and provides broad powers to the president. The president, approved by referendum for a 7-year term, is also Secretary General of the Ba'ath Party and leader of the National Progressive Front, which is a coalition of 10 political parties authorized by the regime. The president has the right to appoint ministers, to declare war and states of emergency, to issue laws (which, except in the case of emergency, require ratification by the People's Council), to declare amnesty, to amend the constitution, and to appoint civil servants and military personnel. The Emergency Law, which effectively suspends most constitutional protections for Syrians, has been in effect since 1963.
The National Progressive Front also acts as a forum in which economic policies are debated and the country's political orientation is determined. However, because of Ba'ath Party dominance, the National Progressive Front has traditionally exercised little independent power.
The Syrian constitution of 1973 requires that the president be Muslim but does not make Islam the state religion. Islamic jurisprudence, however, is required to be a main source of legislation. The judicial system in Syria is an amalgam of Ottoman, French, and Islamic laws, with three levels of courts: courts of first instance, courts of appeals, and the constitutional court, the highest tribunal. In addition, religious courts handle questions of personal and family law.
The Ba'ath Party emphasizes socialism and secular Arabism. Although Ba'ath Party doctrine seeks to build pan-Arab rather than ethnic identity, ethnic, religious, and regional allegiances remain important in Syria.
Members of President Asad's own minority sect, the Alawis, hold most of the important military and security positions, while Sunnis (in 2006) controlled ten of 14 positions on the powerful Ba'ath Party Regional Command. In recent years there has been a gradual decline in the party's preeminence. The party also is heavily influenced by the security services and the military, the latter of which consumes a large share of Syria's economic resources.
Syria is divided administratively into 14 provinces, one of which is Damascus. A governor for each province is appointed by the President. The governor is assisted by an elected provincial council.
History
Archaeologists have demonstrated that Syria was the center of one of the most ancient civilizations on earth. Around the excavated city of Ebla in northern Syria, discovered in 1975, a great Semitic empire spread from the Red Sea north to Turkey and east to Mesopotamia from 2500 to 2400 B.C. The city of Ebla alone during that time had a population estimated at 260,000. Scholars believe the language of Ebla to be the oldest Semitic language.
Syria was occupied successively by Canaanites, Phoenicians, Hebrews, Arameans, Assyrians, Babylonians, Persians, Greeks, Romans, Nabataeans, Byzantines, and, in part, Crusaders before finally coming under the control of the Ottoman Turks. Syria is significant in the history of Christianity; Paul was converted on the road to Damascus and established the first organized Christian Church at Antioch in ancient Syria, from which he left on many of his missionary journeys.
Damascus, settled about 2500 B.C., is one of the oldest continuously inhabited cities in the world. It came under Muslim rule in A.D. 636. Immediately thereafter, the city's power and prestige reached its peak, and it became the capital of the Omayyad Empire, which extended from Spain to India from A.D. 661 to A.D. 750, when the Abbasid caliphate was established at Baghdad, Iraq.
Damascus became a provincial capital of the Mameluke Empire around 1260. It was largely destroyed in 1400 by Tamerlane, the Mongol conqueror, who removed many of its craftsmen to Samarkand. Rebuilt, it continued to serve as a capital until 1516. In 1517, it fell under Ottoman rule. The Ottomans remained for the next 400 years, except for a brief occupation by Ibrahim Pasha of Egypt from 1832 to 1840.
French Occupation
In 1920, an independent Arab Kingdom of Syria was established under King Faysal of the Hashemite family, who later became King of Iraq. However, his rule over Syria ended after only a few months, following the clash between his Syrian Arab forces and regular French forces at the battle of Maysalun. French troops occupied Syria later that year after the League of Nations put Syria under French mandate. With the fall of France in 1940, Syria came under the control of the Vichy Government until the British and Free French occupied the country in July 1941. Continuing pressure from Syrian nationalist groups forced the French to evacuate their troops in April 1946, leaving the country in the hands of a republican government that had been formed during the mandate.
Independence to 1970
Although rapid economic development followed the declaration of independence of April 17, 1946, Syrian politics from independence through the late 1960s were marked by upheaval. A series of military coups, begun in 1949, undermined civilian rule and led to army colonel Adib Shishakli's seizure of power in 1951. After the overthrow of President Shishakli in a 1954 coup, continued political maneuvering supported by competing factions in the military eventually brought Arab nationalist and socialist elements to power.
Syria's political instability during the years after the 1954 coup, the parallelism of Syrian and Egyptian policies, and the appeal of Egyptian President Gamal Abdel Nasser's leadership in the wake of the 1956 Suez crisis created support in Syria for union with Egypt. On February 1, 1958, the two countries merged to create the United Arab Republic, and all Syrian political parties ceased overt activities.
The union was not a success, however. Following a military coup on September 28, 1961, Syria seceded, reestablishing itself as the Syrian Arab Republic. Instability characterized the next 18 months, with various coups culminating on March 8, 1963, in the installation by leftist Syrian Army officers of the National Council of the Revolutionary Command (NCRC), a group of military and civilian officials who assumed control of all executive and legislative authority. The takeover was engineered by members of the Arab Socialist Resurrection Party (Ba'ath Party), which had been active in Syria and other Arab countries since the late 1940s. The new cabinet was dominated by Ba'ath members.
The Ba'ath takeover in Syria followed a Ba'ath coup in Iraq the previous month. The new Syrian Government explored the possibility of federation with Egypt and Ba'ath--controlled Iraq. An agreement was concluded in Cairo on April 17, 1963, for a referendum on unity to be held in September 1963. However, serious disagreements among the parties soon developed, and the tripartite federation failed to materialize. Thereafter, the Ba'ath regimes in Syria and Iraq began to work for bilateral unity. These plans foundered in November 1963, when the Ba'ath regime in Iraq was overthrown. In May 1964, President Amin Hafiz of the NCRC promulgated a provisional constitution providing for a National Council of the Revolution (NCR), an appointed legislature composed of representatives of mass organizations--labor, peasant, and professional unions--a presidential council, in which executive power was vested, and a cabinet. On February 23, 1966, a group of army officers carried out a successful, intra-party coup, imprisoned President Hafiz, dissolved the cabinet and the NCR, abrogated the provisional constitution, and designated a regionalist, civilian Ba'ath government. The coup leaders described it as a "rectification" of Ba'ath Party principles. The defeat of the Syrians and Egyptians in the June 1967 war with Israel weakened the radical socialist regime established by the 1966 coup. Conflict developed between a moderate military wing and a more extremist civilian wing of the Ba'ath Party. The 1970 retreat of Syrian forces sent to aid the PLO during the "Black September" hostilities with Jordan reflected this political disagreement within the ruling Ba'ath leadership. On November 13, 1970, Minister of Defense Hafiz al-Asad affected a bloodless military coup, ousting the civilian party leadership and assuming the role of prime minister.
1970 to 2000
Upon assuming power, Hafiz al-Asad moved quickly to create an organizational infrastructure for his government and to consolidate control. The Provisional Regional Command of Asad's Arab Ba'ath Socialist Party nominated a 173-member legislature, the People's Council, in which the Ba'ath Party took 87 seats. The remaining seats were divided among "popular organizations" and other minor parties. In March 1971, the party held its regional congress and elected a new 21-member Regional Command headed by Asad. In the same month, a national referendum was held to confirm Asad as President for a 7-year term. In March 1972, to broaden the base of his government, Asad formed the National Progressive Front, a coalition of parties led by the Ba'ath Party, and elections were held to establish local councils in each of Syria's 14 governorates. In March 1973, a new Syrian constitution went into effect followed shortly thereafter by parliamentary elections for the People's Council, the first such elections since 1962.
The authoritarian regime was not without its critics, though most were quickly dealt with. A serious challenge arose in the late 1970s, however, from fundamentalist Sunni Muslims, who reject the basic values of the secular Ba'ath program and object to rule by the Alawis, whom they consider heretical. From 1976 until its suppression in 1982, the archconservative Muslim Brotherhood led an armed insurgency against the regime. In response to an attempted uprising by the brotherhood in February 1982, the government crushed the fundamentalist opposition centered in the city of Hama, leveling parts of the city with artillery fire and causing many thousands of dead and wounded. Since then, public manifestations of anti-regime activity have been very limited.
Syria's 1990 participation in the U.S.-led multinational coalition aligned against Saddam Hussein marked a dramatic watershed in Syria's relations both with other Arab states and with the West. Syria participated in the multilateral Middle East Peace Conference in Madrid in October 1991, and during the 1990s engaged in direct, face-to-face negotiations with Israel. These negotiations failed, and there have been no further Syrian-Israeli talks since President Hafiz Al-Asad's meeting with then President Bill Clinton in Geneva in March 2000.
Hafiz Al-Asad died on June 10, 2000, after 30 years in power. Immediately following Al-Asad's death, the Parliament amended the constitution, reducing the mandatory minimum age of the President from 40 to 34 years old, which allowed his son, Bashar Al-Asad legally to be eligible for nomination by the ruling Ba'ath party. On July 10, 2000, Bashar Al-Asad was elected President by referendum in which he ran unopposed, garnering 97.29% of the vote, according to Syrian Government statistics. He was inaugurated into office on July 17, 2000 for a 7-year term.
2000 to 2007
In the aftermath of September 11, 2001 the Syrian Government began limited cooperation with United States in the global war against terrorism. However, Syria opposed the Iraq war in March 2003, and bilateral relations with the United States swiftly deteriorated. In December 2003, President Bush signed into law the Syria Accountability and Lebanese Sovereignty Restoration Act of 2003, which provided for the imposition of a series of sanctions against Syria if Syria did not end its support for Palestinian terrorist groups, end its military and security interference in Lebanon, cease its pursuit of weapons of mass destruction, and meet its obligations under United Nations Security Council resolutions regarding the stabilization and reconstruction of Iraq. In May 2004, the President determined that Syria had not met these conditions and implemented sanctions that prohibit the export to Syria of U.S. products except for food and medicine, and the taking off from or landing in the United States of Syrian Government-owned aircraft. At the same time, the U.S. Department of the Treasury announced its intention to order U.S. financial institutions to sever correspondent accounts with the Commercial Bank of Syria based on money-laundering concerns, pursuant to Section 311 of the USA PATRIOT Act. Acting under the International Emergency Economic Powers Act (IEEPA), the President also authorized the Secretary of the Treasury, in consultation with the Secretary of State, to freeze assets belonging to certain Syrian individuals and entities.
Tensions between Syria and the United States intensified from late 2004 to 2007, primarily over issues relating to Iraq and Lebanon. The U.S. Government recalled its Ambassador to Syria in February 2005, after the assassination of Lebanese Prime Minister Hariri. Sensing its international isolation, the Syrians shored up their relations with Iran and radical Palestinians groups based in Damascus, and cracked down on any signs of internal dissent. There has been little movement on political reform, with more public focus on limited economic liberalizations. The Syrian Government has provided some cooperation to the UN Independent International Investigation Commission, headed by Serge Brammertz, which is investigating the killing of Hariri. Since the 34-day conflict in Lebanon in July and August 2006, evidence of Syrian compliance with its obligations under UN Security Council Resolution 1701 not to rearm the Lebanese group Hezbollah is unpersuasive. On April 17, 2007, the United Nations Security Council welcomed the Secretary General's intention to evaluate the situation along the entire Syria-Lebanon border and invited the Secretary General to dispatch an independent mission to fully assess the monitoring of the border, and to report back on its findings and recommendations.
External links
Copyright Details
License:
Some content for this article is in the Public Domain in the United States because it is a work of the United States Federal Government under the terms of Title 17, Chapter 1, Section 105 of the U.S. Code
Source:
File available from the United States Federal Government [1].
| | |
| --- | --- |
| | This page uses content from Conservapedia. The original article was at Syria. The list of authors can be seen in the page history. Conservapedia grants a non-exclusive license for you to use any of its content (other than images) on this site, with or without attribution. Read more about Conservapedia copyrights. |
Ad blocker interference detected!
Wikia is a free-to-use site that makes money from advertising. We have a modified experience for viewers using ad blockers

Wikia is not accessible if you've made further modifications. Remove the custom ad blocker rule(s) and the page will load as expected.