Ad blocker interference detected!
Wikia is a free-to-use site that makes money from advertising. We have a modified experience for viewers using ad blockers

Wikia is not accessible if you've made further modifications. Remove the custom ad blocker rule(s) and the page will load as expected.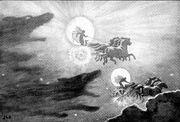 In Norse mythology, Sköll (Old Norse "Treachery")[1] is a wolf that chases the horses Árvakr and Alsviðr, that drag the chariot which contains the sun (Sól) through the sky every day, trying to eat her. Sköll has a brother, Hati, who chases Máni, the moon. At Ragnarök, both Sköll and Hati will succeed in their quests.
Sköll, in certain circumstances, is used as a heiti to refer indirectly to the father (Fenrir) and not the son. This ambiguity works in the other direction also, for example in Vafþrúðnismál, where confusion exists in stanza 46 where Fenrir is given the sun-chasing attributes of his son Sköll. This can mostly be accounted for by the use of Hróðvitnir and Hróðvitnisson to refer to both Fenrir and his sons.
Notes
References
| | |
| --- | --- |
| | This page uses content from the English Wikipedia. The original article was at Sköll. The list of authors can be seen in the page history. |
{{DEFAULTSORT:Skoll}