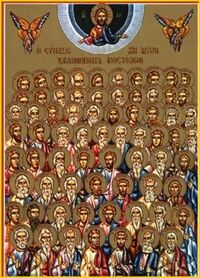 The Seventy Apostles (Eastern Christianity) or Seventy Disciples (Western Christianity) are a group of Jesus' followers that he sent ahead to spread his message to the people of Israel (Luke 10:1-24). The Eastern Orthodox and Oriental Orthodox church maintains a list of the names of the Seventy; however, Roman Catholic scholars commonly judged that "these lists are unfortunately worthless," and Protestants generally agree.
This article is a stub. You can help Religion Wiki by

expanding it

.
Ad blocker interference detected!
Wikia is a free-to-use site that makes money from advertising. We have a modified experience for viewers using ad blockers

Wikia is not accessible if you've made further modifications. Remove the custom ad blocker rule(s) and the page will load as expected.