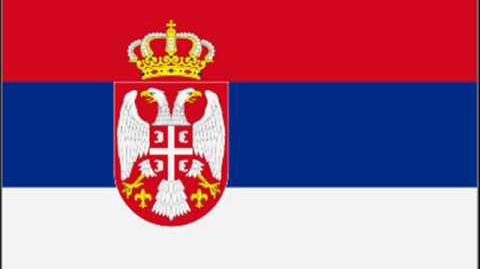 Serbia /ˈsɜrbiə/ (Serbian: Србија, Srbija), officially the Republic of Serbia (Serbian: Република Србија, Republika Srbija), is a country located in both Central and Southeastern Europe. Its territory covers southern part of the Pannonian Plain and central part of the Balkans. Serbia borders Hungary to the north; Romania and Bulgaria to the east; the Republic of Macedonia and Albania to the south; and Croatia, Bosnia and Herzegovina and Montenegro to the west. Belgrade is the capital of Serbia and the largest city.
After the Slavic settlement in the Balkans, Serbs formed a medieval kingdom that evolved into a Serbian Empire, which reached its peak in the 14th century. In the 16th century Serbian lands were subjected to [Ottoman Empire|Ottoman]] conquest. Serbia regained independence from the Ottoman Empire in a 19th century revolution and subsequently expanded its territory. Following the end of World War I, it united with other South Slavic peoples into the Kingdom of Yugoslavia. After World War II it became a federal unit within Socialist Yugoslavia. The dissolution of Yugoslavia in the Yugoslav wars of the 1990s saw the country become a member of Federal Yugoslavia until the Montenegrin independence referendum of 2006 made Serbia a single independent unit.
Religion in Serbia
Eastern Orthodox Christinaity is the dominant religion in Serbia, followed by 84.1% of the population. Roman Catholicisim is followed by 6.24% of Serbians, 3.42% of Serbians are Muslims and 1.44% are Protestants with Buddhism being followed by less than 0.1% of inhabitants.
Although their numbers were greatly diminished by the Holocaust, a Jewish community continues to exist in Serbia. The majority of Jews in Serbia are Sephardi whose ancestors settled in the region, then part of the Ottoman Empire, after their expulsion from Spain in 1492.
References
External links
| | |
| --- | --- |
| | This page uses content from the The Dhamma Wiki.'Dhamma Wiki content is released in the public domain. The Dhamma is free. The Buddha did not hold copyrights either. The sharing of the Buddha Dhamma is solely for the purpose of prolonging the buddhasasana through release. |
| | |
| --- | --- |
| | Religion Wiki uses embedded video content from YouTube.com. We do not host or upload any videos, films, or media files. Therefore, Religion Wiki is not responsible for the accuracy, compliance, copyright, legality, decency, or any other aspect of the content of other linked sites. If you have any legal issues please contact the appropriate media file owners / host sites. |
Ad blocker interference detected!
Wikia is a free-to-use site that makes money from advertising. We have a modified experience for viewers using ad blockers

Wikia is not accessible if you've made further modifications. Remove the custom ad blocker rule(s) and the page will load as expected.