Sai Baba of Shirdi



Shirdi Sai Baba blessing

Full name
Sai Baba of Shirdi
Born
Unknown
Shirdi, India
Died
October 15, 1918

Era
20th century
Region
Hinduism
Sai Baba of Shirdi (1835 – October 15, 1918), also known as Shirdi Sai Baba, is commonly said to be a Fakir by the Muslim followers, and a divine incarnation by the Hindu followers. Some of his Hindu devotees believe that he was an incarnation of Shiva. Many devotees believe that he was a guru. There are many stories and eyewitness accounts of miracles he performed. He is a well-known figure in many parts of the world, but especially in the north of India, where he is much revered.
Little is known of the early years of Sai Baba of Shirdi. Even his name is unknown as Sai Baba is not an appellation in the usual sense. Sai is a term of Persian origin, usually attributed to Muslim ascetics, meaning holy one or saint. Baba, on the other hand, is a Hindi term attributed to respected seniors and holy men, and literally means "father". It is generally concluded that the etymology of Sai Baba means "holy father", "saintly father".
The Sri Sai Satcharitra refers to the occasion in which this "name" was supposedly attached to him. Mhalsapati, the pujari of the small Khandoba temple situated on the outskirts of the village, seeing the young man come to Shirdi with a wedding party, addressed him with the words, Ya Sai, meaning, Welcome, Saint. Following Mhalsapati's example, others also addressed him so, to the extent that he generally became known as Sai. The term Baba was probably added later on as he grew older.
Origins and Early Years
Little is known of Sai Baba's origins. He variously said he met his guru in a forest, or that he did seva to his guru for twelve years. He did not disclose to anyone where he was born nor where he grew up.
A magistrate once visited Sai Baba to ask questions of him:
Commissioner: What is your name?
Baba: They call me Sai Baba.
Commissioner: Your father's name?
Baba: Also Sai Baba.
Commissioner: Your Guru's name?
Baba: Venkusa
Commissioner: Creed or religion?
Baba: Kabir
Commissioner: Caste or race?
Baba: Parvadigar (i.e. God)
Commissioner: Age, please?
Baba: Lakhs of years.[1]
Various sources agree that Sai Baba first arrived at Shirdi between 1835-1838, and stayed for some time, (some say for two months, some say for 5 years), perpetually seated in a asana (yogic) position under the neem tree. All sources agree that Sai Baba remained seated at the Neem tree. Thereafter, Sai Baba left and wandered for many years. He met with Chand Patil in a village named Dhukpeda, and Patil's son was being married; Sai Baba agreed to accompany the wedding party to Shirdi, where he arrived circa 1858, and was to remain there for another 60 years; Sai Baba never left Shirdi village.
It is agreed by various sources that when he first arrived in Shirdi, Sai Baba roamed the village and sought to stay at the Khandoba temple; Mhalsapathi (who was later to become an ardent devotee) thought he was a fakir and denied him permission. It is possibly the same Mhalsapathi who later invited Sai Baba to take up residence in the masjid, thought to be the most fitting place for a fakir.
The wife of the village 'manager' (called a patil) was very taken by Sai Baba and brought him food daily. She often had to roam around the forest to find him. Sai Baba himself continued to roam and later roamed the byways of Shirdi, often muttering to himself. Villagers took no notice of him and thought him a holy mad-man, a pagal. Soon, Sai Baba got in the habit of visiting four or five houses daily, begging his food there. He would gather solid foods in his begging bag, and reportedly had the habit of sharing his food with the poor, along with birds, dogs, insects and so forth. Often, he would only eat after leaving his dish outside the masjid at the disposal of anyone who wanted food.
Sai Baba, at the masjid, seems to have led a solitary life. He was frugal in his speech, and usually only spoke if he was questioned. One Madhavroa Desphande, a teacher in a primary school of the village, recalled how he could hear Sai speaking at night inside the masjid in many languages: Hindi, English, and others unknown to him.
Eleven Teachings of Sai Baba of Shirdi
Those who step in Shirdi, their sufferings will end.
Those who climb the steps of Dwarkamai, misery will leave them.
I will be vigilant and watchful even after leaving my body.
My samadhi will bless and take care of my devotees.
I will be active and concerned even from my tomb.
Consider me to be alive, always and recognize my presence.
I am always there for those who need me and seek refuge in me.
If you look to me, I look after you.
If you cast your burden on me, I will bear it.
If you seek my help, it shall be yours at once.
There shall be no want in the house where I am.
Last Years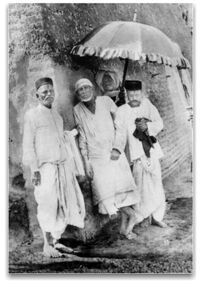 During the Great War, he would regularly visit the main Hindu temple in the village. He would only allow the arati worship to occur at a spot mid-way between the mosque and the temple. While this Hindu ceremony was being performed before him, his face is reported to have been suffused with a radiance that was noticeable to all who witnessed it.
Halfway through the war, on 15th October 1916, he exhibited what resembled a sudden attack of frenzy, crying out that it was his day of "crossing the frontiers." Uncharacteristically, he tore off his clothes and moved about stark naked for two hours until this powerful mood subsided. This bizarre behaviour was subsequently thought to have been a fore-shadowing of his death, since he died two years later on exactly the same date.
When the end came, there were few who were prepared for it, though he gave various advance warnings. He sent some devotees back to Bombay who had intended to stay, and detained others who were due to leave. He said farewell to a pupil who visited him every fortnight, telling him to discontinue his visits. To another sufi he sent the following message: "The light that Allah lit He is taking away." It is said that the recipient shed tears in response. It was the time of the Hindu feast of Dasara, and he gave two hundred rupees to buy food for Fakirs, who sat chanting prayers and reading the Quran. Sai Baba had been ill for a few days previously, and when morning dawned on October 15th 1918, he was still sick. The day's events were to come as a shock to all those living at Shirdi. During all his years at the mosque, Sai Baba had kept with him a brick to which he attached a peculiar significance, even using it as a pillow. He said that it had been given to him by his master (assumed in the literature to have been Venkusa). On this particular day however, this brick was accidentally dropped on the floor, shattering into fragments. Sai Baba glanced at the pieces and said inscrutably: "It is not the brick that is broken, but my karma. I shall not survive its breaking."
About mid-day he sat up, and after a short while sent out those who were with him to take their lunch. Only two Brahmins remained with him inside the mosque. He gave one of them some private instructions and then suddenly said: "I am going. Carry me to the wada. Only brahmins will be near me." These were his last words. Nana Nimonkar hastily poured water into his mouth, only to find that it spattered out again. Sai Baba expired while leaning against one of the brahmins. The wada he had referred to was a large stone building erected at Shirdi some years previously by a Hindu devotee. In the wake of the initial shock at his sudden decease, there was a controversy over his burial, since the Muslim contingent maintained that he was one of them, and should therefore be buried by them in a separate building that they would specially construct. The civic authorities resolved the issue by drawing up two petitions for signatures, a somewhat loaded recourse in that there were far more Hindus involved than Muslims. The upshot was that Sai Baba's remains were interred in the wada, though the corpse was not cremated in the usual Hindu fashion.[2]
Notes and references
↑

Narasimhaswami, B.V, Sri Sai Baba's Charters and Sayings, page 256

↑

Shepherd, Kevin, Gurus Rediscovered, page 70-71
Further reading
Dabholkar, Govindrao Raghunath (alias Hemadpant) Shri Sai Satcharita Shri Sai Baba Sansthan Shirdi, (translated from Marathi into English by Nagesh V. Gunaji in 1944) available online or downloadable
Dabholkar, Govind Raghunath "Shri Sai satcharita : the life and teachings of Shirdi Sai Baba" (1999)
Rigopoulos, Antonio The Life and Teachings of Sai Baba of Shirdi State University of New York press, Albany, (1993) ISBN 0-7914-1268-7
Warren, Marianne, Unravelling the Enigma. Shirdi Sai Baba in the Light of Sufism, Revised edition, New Delhi, Sterling Publishing, 2004. ISBN 81-207-2147-0
Shepherd, Kevin Gurus Rediscovered: Biographies of Sai Baba of Shirdi and Upasani Maharaj of Sakori Cambridge: Anthropographia Publications, (1985) ISBN 0-9508680-2-7
Ad blocker interference detected!
Wikia is a free-to-use site that makes money from advertising. We have a modified experience for viewers using ad blockers

Wikia is not accessible if you've made further modifications. Remove the custom ad blocker rule(s) and the page will load as expected.