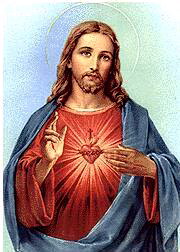 The Sacred Heart of Jesus is a devotional metaphor used particularly in the Roman Catholic Church to describe the sacrificial love of Jesus.Since Jesus was at the same time both true God and true man, his heart is also the heart of God and worthy of adoration.
The Sacred Heart is often depicted in Catholic iconography. As can be seen here, it is an often romanticised portrait of Christ revealing his heart. The Sacred Heart is usually surrounded by a crown of thorns and is wounded to show that Jesus' love is one that pays the ultimate price.
In the Roman Catholic Church, and occassionally in other churches, the feast or solemnity of the Sacred Heart of Jesus is celebrated 19 days after Pentecost. This means that it always falls on a Friday between 29 May and 2 June. This timing is meant to make the feast a mirror to Good Friday, so as to look again at the sacrificial love of Jesus.
Ad blocker interference detected!
Wikia is a free-to-use site that makes money from advertising. We have a modified experience for viewers using ad blockers

Wikia is not accessible if you've made further modifications. Remove the custom ad blocker rule(s) and the page will load as expected.