Roman Catholic Diocese of Groningen-Leeuwarden
Talk

0
Share
Diocese of Groningen-Leeuwarden


Dioecesis Groningensis-Leovardiensis

The Saint Joseph Church in Groningen


Basic information
Location

Netherlands

Territory
Groningen, Friesland,[Drenthe, and the Noordoostpolder
Population
1,780,171 people
110,000 Catholics (6.2%)
Area
9,205 km² (3,555 mi²)
Rite
Latin Rite
Patron
Saint Boniface[1]
Established
1956
Cathedral
Saint Joseph Church, Groningen
Bishop

Bishop

Website
www.bisdomgroningen.nl
Current leadership
Pope
Pope Benedict XVI
Metropolitan
Archbishop Wim Eijk
Diocesan Bishop
Bishop Gerard de Korte
The Diocese of Groningen-Leeuwarden (Dutch: Bisdom Groningen-Leeuwarden; Latin: Dioecesis Groningensis-Leovardiensis) is a diocese of the Catholic Church in the northern Netherlands. It encompasses the provinces of Groningen, Friesland and Drenthe, as well as the Noordoostpolder, a part of the province of Flevoland.[2]
The diocese was erected on 2 February 1956 as the Diocese of Groningen. Its current name was created on 4 February 2006.[3]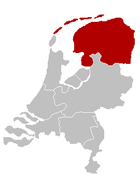 There are some 110,000 Catholics (or 6.2 % of the total population) living in the diocese, making it the smallest Dutch diocese in population, even while it is the largest in area, covering an area of some 9,205 square kilometers (3,555 square miles). As per the most recent data available, the number of churchgoers in 2005 was 12,435 or 0.7 % of the total population.[4]
The current bishop is Mgr. Gerard Johannes Nicolaus de Korte, former auxiliary bishop of Utrecht, who was appointed on 18 June 2008.[5] The episcopal seat is the cathedral of Saint Joseph located in the city of Groningen.[6]
Bishops
References
External links
Ad blocker interference detected!
Wikia is a free-to-use site that makes money from advertising. We have a modified experience for viewers using ad blockers

Wikia is not accessible if you've made further modifications. Remove the custom ad blocker rule(s) and the page will load as expected.