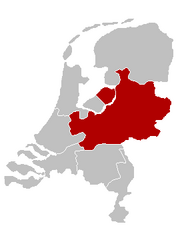 The Archdiocese of Utrecht (Latin: Archidioecesis Ultraiectensis) is an archdiocese of the Catholic church in the Netherlands. The archdiocese is the metropolitan for 6 suffragans, the dioceses of Breda, Groningen-Leeuwarden, Haarlem-Amsterdam, Roermond, Rotterdam, and 's-Hertogenbosch.
Ordinaries
Bishops until Protestant Reformation
Apostolic Vicars of the Dutch Mission
Archbishops in partibus and Apostolic Vicars, in Utrecht
Pro-Apostolic Vicars
in Brussels:
in The Hague:
Old-Catholic archbishops who notified their election to the Pope
None were recognized by the Apostolic See as legitimate. At every notification, the popes' Roman Curia would send an official decree of excommunication and schism.
For more information on the Old-Catholic hierarchy, see main article.
Roman Catholic archbishops after Restoration of the Episcopal Hierarchy
See also
References
Archdiocese of Utrecht statistics
Coordinates: 52°05′15″N 5°07′27″E / 52.0875°N 5.12417°E / 52.0875; 5.12417
Ad blocker interference detected!
Wikia is a free-to-use site that makes money from advertising. We have a modified experience for viewers using ad blockers

Wikia is not accessible if you've made further modifications. Remove the custom ad blocker rule(s) and the page will load as expected.