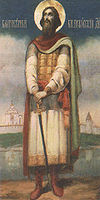 ...that Daumantas of Pskov, a Lithuanian dynast involved in the assassination of the first Lithuanian king, was later canonized by the Russian Orthodox Church and became a patron saint of Pskov?

...that Saint Gorgonia reportedly cured herself of a life-threatening illness by anointing herself with elements of the Eucharist mixed with her own tears?

...that Western Rite Orthodoxy or Western Orthodoxy or Orthodox Western Rite are terms used to describe congregations and groups which are in communion with Eastern Orthodox Churches or Oriental Orthodox Churches using traditional Western liturgies rather than adopting Eastern liturgies such as the Divine Liturgy of St. John Chrysostom?
Ad blocker interference detected!
Wikia is a free-to-use site that makes money from advertising. We have a modified experience for viewers using ad blockers

Wikia is not accessible if you've made further modifications. Remove the custom ad blocker rule(s) and the page will load as expected.