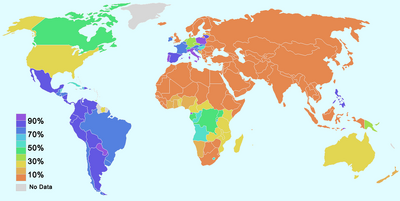 For the organization of the church in single countries see here
Canonically, each Catholic Church is sui iuris or autonomous with respect to other Catholic Churches, whether Eastern or Latin, though all accept the spiritual and juridical authority of the Pope. Thus a Maronite Catholic is normally subject only to a Maronite bishop, not, for example to a Ukrainian or Latin Catholic bishop. However, if in a country the members of some particular Church are so few that no hierarchy of their own has been established there, their spiritual care is entrusted to a bishop of another ritual Church. This holds also for Latin Catholics: in Eritrea, they are placed in the care of bishops of the Ethiopic Catholic Church. Theologically, all the particular Churches can be viewed as "sister churches." According to the Second Vatican Council these Eastern Churches, along with the larger Latin Church share "equal dignity, so that none of them is superior to the others as regards rite and they enjoy the same rights and are under the same obligations, also in respect of preaching the Gospel to the whole world (cf. Mark 16:15) under the guidance of the Roman Pontiff."
Ad blocker interference detected!
Wikia is a free-to-use site that makes money from advertising. We have a modified experience for viewers using ad blockers

Wikia is not accessible if you've made further modifications. Remove the custom ad blocker rule(s) and the page will load as expected.