Ad blocker interference detected!
Wikia is a free-to-use site that makes money from advertising. We have a modified experience for viewers using ad blockers

Wikia is not accessible if you've made further modifications. Remove the custom ad blocker rule(s) and the page will load as expected.
 Atheism ·
 Judaism ·
 Bahá'í Faith ·
  Sikhism ·
 Buddhism ·
 Tibetan Buddhism ·
 Mahayana Buddhism ·
 Theravada Buddhism ·
 Catholicism ·
 Anglicanism ·
 Christianity ·
 Eastern Christianity ·
 Orthodox Christianity ·
 Hinduism ·
 Islam ·
 Sunni Islam ·
 Shia Islam ·
 Mormonism ·
 Church portals ·
 Constructed religions ·
The Bahá'í Faith is an emerging global religion founded by Bahá'u'lláh, a nineteenth-century Iranian exile. "Bahá'í" is either an adjective referring to this religion, or the term for a follower of Bahá'u'lláh.
Bahá'í theology speaks of three interlocking unities: the oneness of God (monotheism); the oneness of his prophets or messengers; and the oneness of humanity (equality, globalism). These three principles have a profound impact on the theological and social teachings of this religion.
Religion is seen as a progressively unfolding process of education, by God, through his messengers, to a constantly evolving human family. Bahá'u'lláh is seen as the most recent, pivotal, but not final of God's messengers. He announced that his major purpose is to lay the spiritual foundations for a new global civilization of peace and harmony, which Bahá'ís expect to gradually arise. {{Wikipedia:Wikiportal/box-footer | Learn more about Bahá'í Faith... }}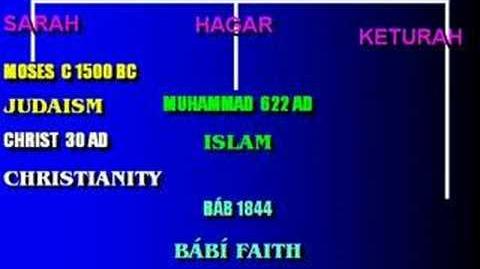 Main Category:
Detailed information about the Bahá'í Faith can be found under these sub-categories: