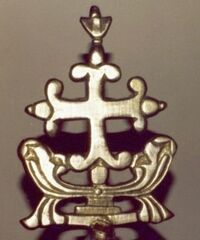 The St Thomas Cross
Palakkappillil (Malayalam: പാലയ്ക്കാപ്പിള്ളില്‍) is an ancient Syro-Malabar Catholic family in Kerala, India. It is also known by the names Palakkappilly or Payyappilly. It is a Syrian Malabar Nasrani family that follows the tradition of conversion to Christianity by St. Thomas the Apostle. The family is spread mainly in central and southern parts of Kerala.
Famous family members
He is the founder of the Congregation of the Sisters of the Destitute.
Rev.Dr.Prasant Palakkappillil C.M.I
Secretary, Indian Council of Social Welfare
Senior Lecturer and Head, Department of Social Work, Rajagiri College of Social Sciences
See also
External links