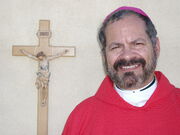 This is an open letter to Archbishops from any jurisdiction regarding assistance in referrals for exorcism
.
Your Eminence:
Greetings in the name of our Lord Jesus Christ.
As you are aware, the requests for exorcism are on the rise. We cannot handle the number of requests without the help of other jurisdictions that are willing to band together with us, in this battle of good versus evil. We need your help.
We are experiencing a number of requests from outside our area including Toronto Canada, and area codes 309, 210, 212, and 661. We need immediate help from experienced priests knowledgeable in the exorcism rite who are willing to join The Sacred Order of Saint Michael the Archangel www.ghostterminators.com and receive referrals for exorcism in their area.
The Sacred Order of Saint Michael the Archangel would like your assistance in our recruitment program. We are attempting to recruit members of the clergy from any jurisdiction, in every city, state and country who are interested in joining the fight of good versus evil, as an exorcist. They would join our Order and receive referrals which will be directed to your attention from people who are requesting an exorcism, while staying within your jurisdiction. Your seminarians and priests with knowledge of the exorcism rite, as well as priests we can train, will be welcome. Once again, your seminarians and/or priests will remain in your jurisdiction while holding a membership in a religious order of exorcists. All referrals will come to your attention and you would do the assigning. You and your experienced priests will receive an official certificate of register ion as an exorcist of our Order. Your website will also be linked to ours as having an exorcism ministry.
Thank you for your consideration. Please let us know if we can count on you for your assistance.
With God's Blessing for you and your ministry,
Archbishop Ron Feyl, SOSM
Ad blocker interference detected!
Wikia is a free-to-use site that makes money from advertising. We have a modified experience for viewers using ad blockers

Wikia is not accessible if you've made further modifications. Remove the custom ad blocker rule(s) and the page will load as expected.