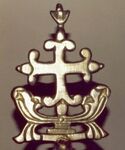 The Nasrani Menorah, also known as the Mar Thoma Sliba, is the symbol of the Knanaya people. It is similar to the Jewish Menorah, the ancient symbol of the Jewish people, with seven branches in the icon. There are six branches of the cross representing the appearance of God in the burning bush, while the central branch holds the cross, and the dove at the tip of the cross represents the Holy Spirit.
See also
References
Ad blocker interference detected!
Wikia is a free-to-use site that makes money from advertising. We have a modified experience for viewers using ad blockers

Wikia is not accessible if you've made further modifications. Remove the custom ad blocker rule(s) and the page will load as expected.