Mysteries
According to Eastern Orthodox theology, the purpose of the Christian life is to attain theosis, the mystical union of man with God. This union is understood as both collective and individual. St. Athanasius of Alexandria, wrote concerning the Incarnation that, "He (Jesus) was made man that we might be made god (θεοποιηθῶμεν)".[1] See 2 Peter 1:4, John 10:34–36, Psalm 82:6. The entire life of the church is oriented towards making this possible and facilitating it.
In the Eastern Orthodox Church the terms "Mystery" or "The Mysteries" refer to the process of theosis. While it is understood that God theoretically can do anything instantly and invisibly, it is also understood that he generally chooses to use material substance as a medium in order to reach people. The limitations are those of mankind, not God. Matter is not considered to be evil by the Eastern Orthodox. Water, oil, bread, wine, etc., all are means by which God reaches out to allow people to draw closer to him. How this process works is a "Mystery", and cannot be defined in human terms. These Mysteries are surrounded by prayer and symbolism so that their true meaning will not be forgotten.
Those things which in the West are often termed Sacraments or sacramentals are known among the Eastern Orthodox as the Sacred Mysteries. While the Roman Catholic Church numbers seven Sacraments, and many Protestant groups list two (Baptism and the Eucharist) or even none, the Eastern Orthodox do not limit the number. However, for the sake of convenience, catechisms will often speak of the seven Great Mysteries. Among these are Holy Communion (the most direct connection), Baptism, Chrismation, Confession, Unction, Matrimony, and Ordination. But the term also properly applies to other sacred actions such as monastic Tonsure or the blessing of holy water, and involves fasting, almsgiving, or an act as simple as lighting a candle, burning incense, praying or asking God's blessing on food.[2]
Baptism
Baptism is the mystery which transforms the old, sinful man into the new, pure man; the old life, the sins, any mistakes made are gone and a clean slate is given. Through baptism one is united to the Body of Christ by becoming a member of the Eastern Orthodox Church. During the service water is blessed. The catechumen is fully immersed in the water three times in the name of the Holy Trinity. This is considered to be a death of the "old man" by participation in the crucifixion and burial of Christ, and a rebirth into new life in Christ by participation in his resurrection.[3] Properly a new name is given, which becomes the person's name.
Children of Eastern Orthodox families are normally baptized shortly after birth. Converts to Eastern Orthodoxy (even converts from other Christian denominations) are usually formally baptized into the Eastern Orthodox Church though exceptions are sometimes made. Those who have left Eastern Orthodoxy and adopted a new religion, if they return to their Eastern Orthodox roots, are usually received back into the church through the mystery of Chrismation.
Properly, the mystery of baptism is administered by bishops and priests; however, in emergencies any Eastern Orthodox Christian can baptize.[4] In such cases, should the person survive the emergency, it is likely that the person will be properly baptized by a priest at some later date. This is not considered to be a second baptism, nor is it imagined that the person is not already Eastern Orthodox, but rather it is a fulfillment of the proper form.
The service of baptism used in Eastern Orthodox churches has remained largely unchanged for over 1500 years. This fact is witnessed to by St. Cyril of Jerusalem (d. 386), who, in his Discourse on the Sacrament of Baptism, describes the service in much the same way as is currently in use.
Chrismation
Chrismation (sometimes called confirmation) is the mystery by which a baptized person is granted the gift of the Holy Spirit through anointing with Holy Chrism.[5] It is normally given immediately after baptism as part of the same service, but is also used to receive lapsed members of the Eastern Orthodox Church.[6] As baptism is a person's participation in the death and resurrection of Christ, so Chrismation is a person's participation in the coming of the Holy Spirit at Pentecost.[7]
A baptized and chrismated Eastern Orthodox Christian is a full member of the Church, and may receive the Eucharist regardless of age.[7]
The creation of Chrism may be accomplished by any bishop at any time, but usually is done only once a year, often when a synod of bishops convenes for its annual meeting. (Some autocephalous churches get their chrism from others.) Anointing with it substitutes for the laying-on of hands described in the New Testament, even when an instrument such as a brush is used.[8]
Fasting
The number of fast days varies from year to year, but in general the Eastern Orthodox Christian can expect to spend a little over half the year fasting at some level of strictness. There are spiritual, symbolic, and even practical reasons for fasting. In the Fall from Paradise mankind became possessed by a carnal nature; that is to say, he became inclined towards the passions. Through fasting, Eastern Orthodox Christians attempt to return to the relationship of love and obedience to God enjoyed by Adam and Eve in Paradise in their own lives, by refraining from carnal practices, by bridling the tongue (James 3:5–6), confession of sins, prayer and almsgiving.
Fasting is seen as purification and the regaining of innocence. Through obedience to the Church and its ascetic practices the Eastern Orthodox Christian seeks to rid himself or herself of the passions (The desires of our fallen carnal nature). All Eastern Orthodox Christians are expected to fast following a prescribed set of guidelines. They do not view fasting as a hardship, but rather as a privilege and joy. The teaching of the Church fixes both the times and the amount of fasting that is expected as a minimum for every member. For greater ascesis, some may choose to go without food entirely for a short period of time. A complete three-day fast at the beginning and end of a fasting period is not unusual, and some fast for even longer periods, though this is usually practiced only in monasteries.
In general, fasting means abstaining from meat and meat products, dairy (eggs and cheese) and dairy products, fish, olive oil, and wine. Wine and oil—and, less frequently, fish—are allowed on certain feast days when they happen to fall on a day of fasting; but animal products and dairy are forbidden on fast days, with the exception of "Cheese Fare" week which precedes Great Lent, during which dairy products are allowed. Wine and oil are usually also allowed on Saturdays and Sundays during periods of fast. In some Eastern Orthodox traditions, caviar is permitted on Lazarus Saturday, the Saturday before Palm Sunday, although the day is otherwise a fast day. Married couples also abstain from sexual relations on fast days, that they may devote themselves to prayer (I Corinthians 7:5).
While it may seem that fasting in the manner set forth by the Church is a strict rule, there are circumstances where a person's spiritual guide may allow a dispensation because of some physical necessity (e.g. those who are pregnant or infirm, the very young and the elderly, or those who have no control over their diet, such as prisoners or soldiers).
The time and type of fast is generally uniform for all Eastern Orthodox Christians; the times of fasting are part of the ecclesiastical calendar, and the method of fasting is set by the Holy Canons and Sacred Tradition. There are four major fasting periods during the year:
In addition to these fasting seasons, Eastern Orthodox Christians fast on every Wednesday (in commemoration of Christ's betrayal by Judas Iscariot), and Friday (in commemoration of Christ's Crucifixion) throughout the year. Monastics often fast on Mondays (in imitation of the Angels, who are commemorated on that day in the weekly cycle, since monastics are striving to lead an angelic life on earth, and angels neither eat nor drink).
Eastern Orthodox Christians who are preparing to receive the Eucharist do not eat or drink at all from midnight until after taking Holy Communion. A similar total fast is expected to be kept on the Eve of Nativity, the Eve of Theophany (Epiphany), Great Friday and Holy Saturday for those who can do so. There are other individual days observed as fasts (though not as days of total fasting) no matter what day of the week they fall on, such as the Beheading of St. John the Baptist on August 29 and the Exaltation of the Holy Cross on September 14.
Strict fasting is canonically forbidden on Saturdays and Sundays due to the festal character of the Sabbath and the Resurrection, respectively. On those days wine and oil are permitted even if abstention from them would be otherwise called for. Holy Saturday is the only Saturday of the year where a strict fast is kept.
There are also four periods in the liturgical year during which no fasting is permitted, even on Wednesday and Friday. These fast-free periods are: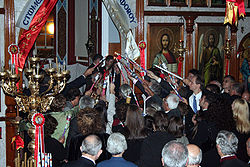 When certain feast days fall on fast days, the fasting laws are lessened to a certain extent, to allow some consolation in the trapeza (refectory) for the longer services, and to provide an element of sober celebration to accompany the spiritual joy of the feast.
It is considered a greater sin to advertise one's fasting than not to participate in the fast. Fasting is a purely personal communication between the Eastern Orthodox Christian and God. If one has health concerns, or responsibilities that cannot be fulfilled because of fasting, then it is perfectly permissible not to fast. An individual's observance of the fasting laws is not to be judged by the community (Romans 14:1–4), but is a private matter between him and his Spiritual Father or Confessor.
Almsgiving
"Almsgiving" refers to any charitable giving of material resources to those in need. Along with prayer and fasting, it is considered a pillar of the personal spiritual practices of the Eastern Orthodox Christian tradition. Almsgiving is particularly important during periods of fasting, when the Eastern Orthodox believer is expected to share the monetary savings from his or her decreased consumption with those in need. As with fasting, bragging about the amounts given for charity is considered anywhere from extremely rude to sinful.
Holy Communion
The Eucharist is at the center of Eastern Orthodox Christianity. In practice, it is the partaking of the Body and Blood of Jesus Christ in the midst of the Divine Liturgy with the rest of the church. The bread and wine are believed to become the genuine Body and Blood of the Christ Jesus through the operation of the Holy Spirit. The Eastern Orthodox Church has never described exactly how this occurs, or gone into the detail that the Roman Catholic Church has in the West. The doctrine of transubstantiation was formulated after the Great Schism took place, and the Eastern Orthodox Churches have never formally affirmed or denied it, preferring to state simply that it is a "Mystery".[9] Communion is given only to baptized and chrismated Eastern Orthodox Christians who have prepared by fasting, prayer and confession. The priest will administer the Gifts with a spoon, called a "cochlear", directly into the recipient's mouth from the chalice.[10] From baptism young infants and children are carried to the chalice to receive Holy Communion.[7] Because of the Eastern Orthodox understanding of man's fallen nature in general those who wish to commune prepare themselves in a way that reflects man in paradise. First, the individual prepares by having his confession heard and the prayer of repentance read over him by a priest. The person fasts from animal products for a number of days prior (usually from Wednesday on) in order to live like Adam in the garden eating only fruits and vegetables. He refrains from sexual relations with his spouse since union with Christ through communion is the most desirable thing man wants Likewise he will refrain from communion should he have a nocturnal emission or, if it is a woman, she is menstruating. The person will increase their prayer rule adding the prescribed prayers in preparation for communing. Finally, the person will fast completely from food and drink from the evening of the previous day (usually sunset on Saturday if communing on Sunday).
Repentance
Eastern Orthodox Christians who have committed sins but repent of them, and who wish to reconcile themselves to God and renew the purity of their original baptisms, confess their sins to God before a spiritual guide who offers advice and direction to assist the individual in overcoming their sin. Parish priests commonly function as spiritual guides, but such guides can be any person, male or female, who has been given a blessing to hear confessions. Spiritual guides are chosen very carefully as it is a mandate that once chosen, they must be obeyed. Having confessed, the penitent then has his or her parish priest read the prayer of repentance over them.
Sin is not viewed by the Eastern Orthodox as a stain on the soul that needs to be wiped out, or a legal transgression that must be set right by a punitive sentence, but rather as a mistake made by the individual with the opportunity for spiritual growth and development. An act of Penance (epitemia), if the spiritual guide requires it, is never formulaic, but rather is directed toward the individual and their particular problem, as a means of establishing a deeper understanding of the mistake made, and how to effect its cure. Though it sounds harsh, temporary excommunication is fairly common (The Eastern Orthodox require a fairly high level of purity in order to commune, therefore certain sins make it necessary for the individual to refrain from communing for a period). Confession and repentance are required in order to raise the individual to a level capable of communing (though no one is truly worthy). Because full participatory membership is granted to infants, it is not unusual for even small children to confess; though the scope of their culpability is far less than an older child, still their opportunity for spiritual growth remains the same.
Marriage
Marriage in the Eastern Orthodox Church is the joining of one man and one woman into one flesh. In order to fully understand the Eastern Orthodox concept of marriage one has to understand the Eastern Orthodox view on man's true and fallen state and his ultimate state at world's end. Man was originally created to commune with God but because of his fall from grace man was cut off. Man's curse was that life itself would be hard on him. As a consolation, God allowed man to have temporary companionship here on earth. When Christ was asked the hypothetical question about a woman who married a series of seven brothers – each after her preceding husband had died – whose wife she would be in the resurrection, Christ responded that in the resurrection people are no longer married but their relationship is with God (Matthew 22:24–30, Mark 12:19–25, Luke 20:28–36). And so, first and foremost this joining is seen as a dispensation allowed by God for the mutual comfort and support of the individuals involved. While procreation and the perpetuation of the species is seen as important, what is more important is the bond of love between the husband and wife as this is a reflection of our ultimate union with God. Virginity, however, is seen as a higher state since one participates in the immediate relationship with God and is not distracted by having to serve a wife or husband (1 Corith:7 esp.32–33)
The Church does recognize that there are rare occasions when it is better that couples do separate, but there is no official recognition of civil divorces. For the Eastern Orthodox, the marriage is indissoluble as in it should not be broken, the violation of such a union, perceived as holy, being an offense resulted from either adultery or the prolonged absence of one of the partners. Thus, permitting remarriage is an act of compassion of the Church towards sinful man.[11] In the U.S., according to 2001 statistics, 14% of Eastern Orthodox marriages ended in an ecclesiastical divorce; a figure that, since it took no account of how many of the couples who entered such marriages took out a civil divorce, is not comparable with the figure of 43% given at that time for the proportion of all marriages that ended in a civil divorce, but which has been argued as indicating a probable total of only 15% of marriages celebrated in an Eastern Orthodox church led to any form of divorce.[12] Divorced individuals are usually allowed to remarry though there is usually imposed on them a fairly severe penance by their bishop and the services for a second marriage in this case are more penitential than joyful. Widows are permitted to remarry without repercussion and their second marriage is considered just as valid as the first. One exception to this rule is the clergy and their wives. Should a married priest die, it is expected that his wife will retire to a monastery as soon as their children are out of the house. Widowed priests are not allowed to remarry and also frequently end up in monasteries.
The service of Marriage in the Eastern Orthodox Church has two distinct parts: The Betrothal and The Crowning. The Betrothal includes: 1. The exchange of the rings, (it has always been the tradition of the Church to place the wedding ring on the right hand of the couple based on biblical references. This is seen very clearly in one of the prayers in the Betrothal Service. A portion of the prayer refers to the biblical references: "For You, O Lord, have declared that a pledge is to be given and held inviolate in all things. By a ring Joseph was given might in Egypt; by a ring Daniel was exalted in Babylon; by a ring our heavenly Father showed compassion upon His prodigal son, for He said, 'Put a ring upon his right hand, kill the fatted calf, and let us eat and rejoice.' Your own right hand, O Lord, armed Moses in the Red Sea. By word of Your truth were the Heavens established and the earth set upon her sure foundations; and the right hands of Your servants shall be blessed by Your mighty word, and by Your uplifted arm." As we see, it was scripturally the practice to wear rings on the right hand, the hand of authority and power completing the pledge of commitment. The power and authority comes from the right hand of God. 2. The procession, the declaration of intent, and 3. The lighting of candles.
The Crowning includes: The readings from the epistle and gospel, the Blessing of the Common Cup, and the Dance of Isaiah (the bride and groom are led around the table 3 times), and then the Removal of the Crowns. There is no exchange of vows. There is a set expectation of the obligations incumbent on a married couple, and whatever promises they may have privately to each other are their responsibility to keep. The ceremony ends with the reading of Benedictions to and the Greeting of the Couple.
At the Sacrament of Marriage the crowns are placed on the bride and groom's heads as the following prayer is recited three times, "The servant of God, (groom's name), is crowned to the handmaid of God, (bride's name), in the Name of the Father, and of the Son, and of the Holy Spirit" three times. It is then repeated three times as the bride is crowned to the groom. We witness the groom and bride being crowned (visibly proclaimed) as the king and queen, respectively, of a new family, entrusted by God with the authority to rule their family in faith and love and harmony with Christ. They both share in this responsibility and privilege as a newly married couple. This is not simply being declared by the priest or even the Church, but by God Himself, as the following hymn is chanted three times: "O Lord, our God, crown them with glory and honor." The crowns are then switched back and forth between the groom and bride's head, signifying that they completely share their lives together.
The crowns also serve as a reminder of the crowns that await them in heaven, if they live their lives in faithfulness to God and each other.. Fr. John Meyendorff in his book, Marriage: An Orthodox Perspective, writes: "According to St. John Chrysostom, the crowns symbolized victory over the 'passions.' " It is interesting to note that in the service of a second marriage the crowns are not to be used.
Many couples keep the wedding crowns in a case and display them near their icon corner or in the couple's bedroom. They serve as a reminder that God has united them to each other and to himself and that he has bestowed his grace upon them to live in unity, faith and love.
The church understands marriage only as the union of one man and one woman, and certain Eastern Orthodox leaders have spoken out strongly in opposition to the civil institution of Same-Sex Marriage[13][14]
Monasticism
All Eastern Orthodox Christians are expected to participate in at least some ascetic works, in response to the commandment of Christ to "come, take up the cross, and follow me." (Mark 10:21 and elsewhere) They are therefore all called to imitate, in one way or another, Christ himself who denied himself to the extent of literally taking up the cross on the way to his voluntary self-sacrifice. However, laypeople are not expected to live in extreme asceticism since this is close to impossible while undertaking the normal responsibilities of worldly life. Those who wish to do this therefore separate themselves from the world and live as monastics: monks and nuns. As ascetics par excellence, using the allegorical weapons of prayer and fasting in spiritual warfare against their passions, monastics hold a very special and important place in the Church. This kind of life is often seen as incompatible with any kind of worldly activity including that which is normally regarded as virtuous. Social work, school teaching, and other such work is therefore usually left to laypeople. Ascetics of Eastern Orthodox Church are recognized by their long hair, and in case of male monks long beards.
There are three main types of monastics. Those who live in monasteries under a common rule are coenobitic. Each monastery may formulate its own rule, and although there are no religious orders in Eastern Orthodoxy some respected monastic centers such as Mount Athos are highly influential. Eremitic monks, or hermits, are those who live solitary lives. It is the yearning of many who enter the monastic life to eventually become solitary hermits. This most austere life is only granted to the most advanced monastics and only when their superiors feel they are ready for it. Hermits are usually associated with a larger monastery but live in seclusion some distance from the main compound. Their local monastery will see to their physical needs, supplying them with simple foods while disturbing them as little as possible. In between are those in semi-eremitic communities, or sketes, where one or two monks share each of a group of nearby dwellings under their own rules and only gather together in the central chapel, or katholikon, for liturgical observances.
The spiritual insight gained from their ascetic struggles make monastics preferred for missionary activity. Bishops are almost always chosen from among monks, and those who are not generally receive the monastic tonsure before their consecrations.
Many (but not all) Eastern Orthodox seminaries are attached to monasteries, combining academic preparation for ordination with participation in the community's life of prayer. Monks who have been ordained to the priesthood are called hieromonk (priest-monk); monks who have been ordained to the diaconate are called hierodeacon (deacon-monk). Not all monks live in monasteries, some hieromonks serve as priests in parish churches thus practicing "monasticism in the world".
Cultural practices differ slightly but in general, Father is the correct form of address for monks who have been tonsured, while Novices are addressed as Brother. Similarly, Mother is the correct form of address for nuns who have been tonsured, while Novices are addressed as Sister. Nuns live identical ascetic lives to their male counterparts and are therefore also called monachoi (monastics) or the feminine plural form in Greek, monachai, and their common living space is called a monastery.
Holy Orders
Since its founding, the Church spread to different places and its leaders in each region came to be known as episkopoi (overseers, plural of episkopos, overseer—Gr. ἐπίσκοπος), which became "bishop" in English. The other ordained roles are presbyter (Gr. πρεσβύτερος, elder), which became "prester" and then "priest" in English, and diakonos (Gr. διάκονος, servant), which became "deacon" in English (see also subdeacon). There are numerous administrative positions among the clergy that carry additional titles. In the Greek tradition, bishops who occupy an ancient see are called metropolitans, while the lead bishop in Greece is the archbishop. (In the Russian tradition, however, the usage of the terms "metropolitan" and "archbishop" is reversed.) Priests can be archpriests, archimandrites or protopresbyters. Deacons can also be archdeacons or protodeacons. The position of deacon is often occupied for life. The deacon also acts as an assistant to a bishop.
With the exception of bishops, who remain celibate, the Orthodox Church has always allowed priests and deacons to be married, provided the marriage takes place before ordination. In general it is considered preferable for parish priests to be married as they often act as counsel to married couples and thus can draw on their own experience. Unmarried priests usually are monks and live in monasteries, though there are occasions when, because of a lack of married priests, a monk-priest is temporarily assigned to a parish. Widowed priests and deacons may not remarry and it is common for such members of the clergy to retire to a monastery (see clerical celibacy). This is also true of widowed wives of clergy, who do not remarry and become nuns when their children are grown. There is serious discussion about reviving the order of deaconess, which fell into disuse in the first millennium; the deaconesses had both liturgical and pastoral functions within the church.[15] Although it has fallen out of practice (the last deaconess was ordained in the 19th century) there is no reason why deaconesses could not be ordained today.
Unction
Anointing with oil, often called "unction", is one of the mysteries administered by the Orthodox Church and it is not reserved only for the dying or terminally ill, but for all in need of spiritual or bodily healing. In Greece, during the Ottoman occupation, it became the custom to administer this mystery annually on Great Wednesday to all believers; in recent decades, this custom has spread to many other locations. It is often distributed on major feast days, or any time the clergy feel it necessary for the spiritual welfare of its congregation.
According to Orthodox teaching unction is based on the Epistle of James:
Is anyone among you sick? Let him call for the elders of the church, and let them pray over him, anointing him with oil in the name of the Lord. And the prayer of faith will save the sick, and the Lord will raise him up. And if he has committed sins, he will be forgiven.—James 5:14–15
---