Link alphabetical listing (surname) of Mormon Pioneers that played a noteworthy role in the establishment and early history of The Church of Jesus Christ of Latter-day Saints. The following is a collection of biographies, diaries, personal histories, etc: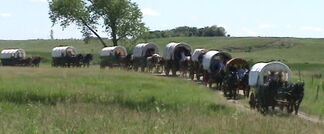 [ A B C D E F G H IJ K L M N O PQ R S T U V W XYZ H1 ]
X
Y
Young
See also First Missionary Journey of Samuel Smith - history of the Young and Richards Family joining the early LDS Church.
Brigham Young (1801-1877) - Veteran of Zions Camp, Later a LDS Apostle and successor to Joseph Smith as 2nd President of the LDS Church
Brigham Young, Jr. (1836-1903) - LDS Apostle, President of the Quorum.
Feramorz Young (1858-1881) - Son of Brigham, died of typhoid while on mission to Mexico.
John W Young (1844-1924) = He is one of the few individuals to have been an apostle of the LDS Church and a member of the First Presidency without ever having been a member of the Quorum of the Twelve Apostles.
Joseph Young (1797-1881) - Veteran of Zions Camp, older brother to Brigham, afterwards called by Joseph Smith as one of the Seven Presidents of the First Quorum of Seventy.
Joseph A Young (1834-1876) - Son of Brigham, LDS Apostle, key participant in the Martin Handcart Company Rescue, member of Utah Territorial Legislature and LDS Missionary to England.
Gen. Richard W Young (1858-1919) - Grandson of Brigham, a U.S. Army Brigadier General and an Associate Justice of the Supreme Court of the Philippines during the time that the Philippines was a U.S. Territory.
Susan A Young(1856-1933) - Womens suffrage activist, founder of Utah Chapter, Daughters of the American Revolution, genealogist, book writer, member of university board of regents, founding editor of Relief Society Magazine
Z
References
Ad blocker interference detected!
Wikia is a free-to-use site that makes money from advertising. We have a modified experience for viewers using ad blockers

Wikia is not accessible if you've made further modifications. Remove the custom ad blocker rule(s) and the page will load as expected.