Link alphabetical listing (surname) of Mormon Pioneers that played a noteworthy role in the establishment and early history of The Church of Jesus Christ of Latter-day Saints. The following is a collection of biographies, diaries, personal histories, etc: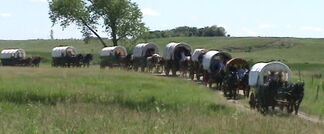 [ A B C D E F G H IJ K L M N O PQ R S T U V W XYZ ]
S
Sanders
Sanderson
Savage
Sherman
Smith
Snow
Eliza R Snow (1804-1887) - one of the most celebrated Mormon women of the nineteenth century. A renowned poet, she chronicled history, celebrated nature and relationships, and expounded scripture and doctrine. Snow was the second general president of the LDS Relief Society.
Lorenzo Snow (1814-1901) - LDS Apostle and 5th President of the LDS Church.
Stevenson
Stoneman
References