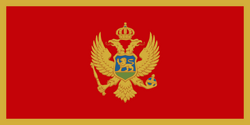 Montenegro /ˌmɒntɨˈneɪɡroʊ/ or /ˌmɒntɨˈniːɡroʊ/), (Montenegrin: Crna Gora/Црна Гора) (meaning "Black Mountain" in Montenegrin) is a country located in Southeastern Europe. It has a coast on the Adriatic Sea to the south-west and is bordered by Croatia to the west, Bosnia and Herzegovina to the northwest, Serbia to the northeast, Kosovo to the east and Albania to the south. Its capital and largest city is Podgorica, while Cetinje is designated as the Prijestonica (Пријестоница), meaning the former Royal Capital City.
Religion in Montenegro
The Orthodox Church is adhered by 75% of the people of Montenegro, Islam is the religion of 18% of the population and 3.5% of Montenegro's people are Roman Catholics. Less than 0.1% of the inhabitants of Montenegro are Buddhists.
References
External links
| | |
| --- | --- |
| | This page uses content from the The Dhamma Wiki.'Dhamma Wiki content is released in the public domain. The Dhamma is free. The Buddha did not hold copyrights either. The sharing of the Buddha Dhamma is solely for the purpose of prolonging the buddhasasana through release. |
Ad blocker interference detected!
Wikia is a free-to-use site that makes money from advertising. We have a modified experience for viewers using ad blockers

Wikia is not accessible if you've made further modifications. Remove the custom ad blocker rule(s) and the page will load as expected.