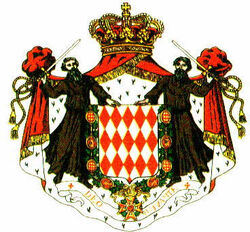 Monaco /ˈmɒnəkoʊ/, officially the Principality of Monaco (French: Principauté de Monaco; Monégasque: Principatu de Múnegu; Italian: Principato di Monaco; Occitan: Principat de Mónegue), is a small sovereign city-state located in South Western Europe on the northern central coast of the Mediterranean Sea, having a land border on three sides only with France, and being about 16 km (9.9 mi) away from Italy. Its size is just under 2 km² with an estimated population of almost 33,000. Monaco is the world's most densely populated sovereign country, and the world's smallest French-speaking country. An average person takes only 56 minutes to walk across the width of the country. Monaco is the name of the country as well as the name of its capital city. It is often regarded as a tax haven, and many of its inhabitants are wealthy and from foreign countries, making up a majority of the population, at around 84%.
Religion in Monaco
Roman Catholicism is the official state religion of Monaco, although freedom of religion is guaranteed by the constitution. Monaco has five Roman Catholic parish churches and one cathedral, the seat of the Archbishop of Monaco.
Monte Carlo is home to one Anglican church and one synagogue.
About 0.1% of the inhabitants of Monaco are Buddhists.
References
External links
| | |
| --- | --- |
| | This page uses content from the The Dhamma Wiki.'Dhamma Wiki content is released in the public domain. The Dhamma is free. The Buddha did not hold copyrights either. The sharing of the Buddha Dhamma is solely for the purpose of prolonging the buddhasasana through release. |
Ad blocker interference detected!
Wikia is a free-to-use site that makes money from advertising. We have a modified experience for viewers using ad blockers

Wikia is not accessible if you've made further modifications. Remove the custom ad blocker rule(s) and the page will load as expected.