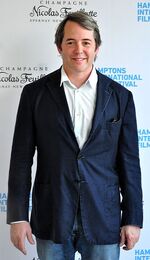 Matthew Broderick (born March 21, 1962) is a Jewish American film and stage actor who played the title character in Ferris Bueller's Day Off, Nick Tatopoulos in Godzilla and David Lightman in WarGames. He voiced Simba (adult) in The Lion King and The Lion King II: Simba's Pride. He also voiced Tack the Cobbler in The Thief and the Cobbler. He played Leo Bloom in the film and Broadway productions of The Producers, and played Colonel Robert Gould Shaw in the Civil War drama Glory.
Early life
Broderick was born in New York City, the son of Patricia (née Biow), a playwright, actress, and painter whose work was posthumously shown at the Tibor de Nagy gallery in New York, and James Wilke Broderick, an actor.[1][2] Broderick's mother was Jewish, and his father a Catholic of Irish descent.[3][4][5] Broderick attended grade school at the City & Country School (a progressive K–8 school in Manhattan) and attended high school at Walden School (a defunct private school in Manhattan with a strong drama program).
Career
Broderick's first major acting role came in an HB Studio workshop production of playwright Horton Foote's On Valentine's Day, playing opposite his father, who was a friend of Foote's. This was followed by a lead role in the off-Broadway production of Harvey Fierstein's Torch Song Trilogy; then, a good review by New York Times theater critic Mel Gussow brought him to the attention of Broadway. Broderick commented on the effects of that review in a 2004 60 Minutes II interview:
| | | |
| --- | --- | --- |
| " | Before I knew it, I was like this guy in a hot play. And suddenly, all these doors opened. And it's only because Mel Gussow happened to come by right before it closed and happened to like it. It's just amazing. All these things have to line up that are out of your control. | " |
He followed that with the role of Eugene Morris Jerome in the Neil Simon Eugene Trilogy including the plays, Brighton Beach Memoirs and Biloxi Blues. His first movie role was also written by Neil Simon. Broderick debuted in Max Dugan Returns (1983). His first big hit film was WarGames, a summer hit in 1983. This was followed by the role of Philippe Gaston in Ladyhawke, in 1985. Broderick auditioned for the role of Alex P. Keaton on the NBC sitcom Family Ties and was offered the role, but he had to turn it down because of his movie schedule. (The role was claimed by Michael J. Fox.) Broderick then got the role as the charming, clever slacker in Ferris Bueller's Day Off. Broderick, who in real life was 23, played a high-school student who, with his girlfriend and best friend, plays hooky and explores Chicago while avoiding the clutches of the dean of students, who is eager to catch Bueller in the act. The movie remains a 1980s comedy favorite today and is one of Broderick's best-known roles (particularly with teenage audiences). In 1989's Glory, Broderick received good notices for his portrayal of the American Civil War hero Robert Gould Shaw.
In the 1990s, Broderick took on the role as the adult lion, Simba, in the successful animated film, The Lion King, and also voiced Tack the Cobbler in The Thief and the Cobbler. Also, he distinguished himself in two dark-comedy roles. The first was that of a bachelor who attracts the friendship of an insane and lonely cable repairman (played by Jim Carrey) in The Cable Guy. The second was that of a Papillion LaVista high-school teacher determined to stop an overachieving student (played by Reese Witherspoon) from becoming class president in Alexander Payne's Election.
Broderick returned to Broadway as a musical star in the 1990s, most notably his Tony Award–winning performance in How to Succeed in Business Without Really Trying and his Tony Award–nominated performance in the Mel Brooks' stage version of The Producers in 2001. Also, he continues to make feature films, including the 2005 adaptation of The Producers. Broderick played the role of Leopold "Leo" Bloom, an accountant who co-produces a musical designed to fail, but which turns out to be successful. In The Producers, Broderick sings several songs, not only alone but with other characters.
Broderick reunited with his co-star from The Lion King and The Producers, Nathan Lane, in The Odd Couple, which opened on Broadway in October 2005. He is currently appearing on Broadway as a college professor in The Philanthropist, running April 10 through June 28, 2009.[6]
He has won two Tony Awards, one in 1983 for his featured role in the play Brighton Beach Memoirs and one in 1995 for his leading role in the musical How to Succeed in Business Without Really Trying. He was also nominated for the Tony Award, Best Actor in a Musical, for the The Producers but lost to Lane. To date, Matthew Broderick is the youngest winner of the Tony Award, Best Featured Actor in a Play.
Personal life
Broderick met actress Jennifer Grey on the set of Ferris Bueller's Day Off and in 1986 was briefly engaged to her. Broderick met actress Sarah Jessica Parker through her brother. The couple married on May 19, 1997 in a civil ceremony in an historic deconsecrated synagogue on the Lower East Side; and although Broderick considers himself culturally Jewish,[7][8] the ceremony was performed by his sister, Janet Broderick Kraft, an Episcopal priest.[9] Parker and Broderick have a son, James Wilke Broderick, born on October 28, 2002. On April 28, 2009, it was confirmed that Broderick and Parker were expecting twin girls through surrogacy.[10] Broderick and Parker's surrogate delivered their twin daughters, Marion Loretta Elwell and Tabitha Hodge, on June 22, 2009.[11] Marion Loretta Elwell weighed 5 pounds, 11 ounces, while Tabitha Hodge was 6 pounds.[12]
Although they live in New York City, they spend a considerable amount of time at their holiday home in County Donegal, Ireland, where Broderick spent his summers as a child.
He is left-handed, a fact made evident in his first movie, Max Dugan Returns, in which he plays baseball.
Broderick is an avid baseball fan. His favorite team is the New York Mets. He narrated the DVD "Shea Goodbye: 45 Years of Amazin", which chronicled the life of Shea Stadium.
Broderick is good friends with his The Producers co-star, Nathan Lane.
Fellow 1980s teen actor Jon Cryer is often said to look like Broderick;[13] their striking resemblance has been portrayed in two episodes of Cryer's TV show, Two and a Half Men.
Auto accident in County Fermanagh, Northern Ireland
On August 5, 1987, Broderick was in Northern Ireland, vacationing with Grey, when his rented BMW veered into the wrong lane on a country road in Enniskillen, County Fermanagh and smashed head-on into a car driven by Anna Gallagher, 30. She and her mother, Margaret Doherty, 63, died instantly.
Broderick spent four weeks in a Belfast hospital with a fractured leg and ribs, collapsed lung and concussion. Grey suffered minor injuries.
Broderick told authorities he had no recollection of the crash and did not know why he was in the wrong lane. "I don't remember the day. I don't remember even getting up in the morning. I don't remember making my bed. What I first remember is waking up in the hospital, with a very strange feeling going on in my leg," he said at the time.[14]
Broderick was charged with causing death by dangerous driving and faced a prison term of up to five years. He was later convicted of the lesser charge of careless driving and fined $175. The victims' family called the case "a travesty of justice."[14]
Broderick agreed to meet with the family of the two women in the spring of 2003 so that the family could gain some sense of closure on the accident.[14]
Work
Filmography
Year
Film
Role
Notes
1983
Max Dugan Returns
Michael McPhee
Debute role
WarGames
David Lightman
Nominated — Saturn Award for Best Actor
1985
1918
Brother
Master Harold...and the Boys
Hally
Nominated — CableACE Award for Actor in a Theatrical or Dramatic Special
Ladyhawke
Phillipe Gaston
1986
Ferris Bueller's Day Off
Ferris Bueller
On Valentine's Day
Brother
1987
Project X
James "Jimmy" Garrett
1988
She's Having a Baby
cameo "Ferris Bueller"
Biloxi Blues
Eugene Morris Jerome
Torch Song Trilogy
Alan Simon
1989
Family Business
Adam McMullen
Glory
Colonel Robert Gould Shaw
1990
The Freshman
Clark Kellogg / The Narrator
1992
Out on a Limb
Bill Campbell
1993
The Night We Never Met
Samuel "Sam" Lester
1994
The Lion King
Simba the Lion (adult)
(voice only)
Mrs. Parker and the Vicious Circle
Charles MacArthur
The Road to Wellville
William Lightbody
1995
The Thief and the Cobbler
Tack the Cobbler
(voice only)
1996
The Cable Guy
Steven M. Kovacs
Nominated — MTV Movie Award for Best Fight with Jim Carrey
Infinity
Richard Feynman
1997
Addicted to Love
Sam
1998
Godzilla
Dr. Niko "Nick" Tatopoulos
The Lion King II: Simba's Pride
Simba the Lion
(voice only)
Walking to the Waterline
Michael Woods
1999
Election
James "Jim" McAllister
Nominated — Chlotrudis Award for Best Actor
Inspector Gadget
Inspector Gadget / Robo-Gadget / Jonathan "John" Brown
2000
You Can Count on Me
Brian Everett
2003
The Music Man
Professor Harold Hill
Good Boy!
Canid 3492 the Dog ("Hubble")
(voice only)
2004
The Lion King 1½
Simba the Lion (teenager and adult)
(voice only)
Marie and Bruce
Bruce
The Stepford Wives
Walter Kresby
The Last Shot
Steven Schats
2005
The Producers
Leopold Bloom
2006
Strangers with Candy
Roger Beekman
Deck the Halls
Steven "Steve" Finch
2007
Then She Found Me
Benjamin "Ben" Green
Bee Movie
Adam Flayman
(voice only)
2008
Diminished Capacity
Cooper
Finding Amanda
Taylor Peters Mendon
Nominated — Prism Award for Performance in a Feature Film
The Tale of Despereaux
Despereaux
(voice only)
2009
Wonderful World
Benjamin "Ben" Singer
2010
Margaret
Andrew Van Tassel
awaiting release
Stage

Torch Song Trilogy (1981)
Brighton Beach Memoirs (1983)
Biloxi Blues (1985)
How to Succeed in Business Without Really Trying (1995) (revival)
Night Must Fall (1999) (revival)
Taller Than a Dwarf (2000)
The Producers (2001–2002, 2003)
Short Talks on the Universe (2002)
The Foreigner (2004)
The Odd Couple (2005) (revival)
The Philanthropist (2009) (revival)
The Starry Messenger (2009)

Television

Faerie Tale Theatre: Cinderella (1985)
Master Harold...and the Boys (1985)
A Life in the Theater (1993)
The Music Man
30 Rock: "Cooter" (2008)
Cyberchase: "Father's Day" (2009)
References
External links
Ad blocker interference detected!
Wikia is a free-to-use site that makes money from advertising. We have a modified experience for viewers using ad blockers

Wikia is not accessible if you've made further modifications. Remove the custom ad blocker rule(s) and the page will load as expected.