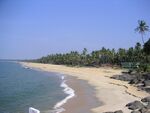 The Malabar Coast, also known as the Malabarian Coast, is a long and narrow south-western shore line of the mainland Indian subcontinent. Geographically, it comprises the wettest region of southern India, as the Western Ghats intercept the moisture-laden monsoon rains, especially on their westward-facing mountain slopes. The term "Malabar Coast" is also sometimes used in reference to the entire Indian coast from the western coast of Konkan to the tip of the subcontinent at Cape Comorin.
Ad blocker interference detected!
Wikia is a free-to-use site that makes money from advertising. We have a modified experience for viewers using ad blockers

Wikia is not accessible if you've made further modifications. Remove the custom ad blocker rule(s) and the page will load as expected.