Ad blocker interference detected!
Wikia is a free-to-use site that makes money from advertising. We have a modified experience for viewers using ad blockers

Wikia is not accessible if you've made further modifications. Remove the custom ad blocker rule(s) and the page will load as expected.

Part of a series on Shī'ah Islam
Twelvers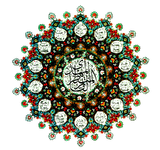 The Fourteen Infallibles
Muhammad · Fatimah · Ali · Hasan · Husayn · al-Sajjad · al-Baqir · al-Sadiq · al-Kadhim · al-Rida · al-Taqi · al-Naqi · al-Askari · al-Mahdi
---
The Twelve Imams
Ali · Hasan · Husayn
al-Sajjad · al-Baqir · al-Sadiq
al-Kadhim · al-Rida · al-Taqi
al-Naqi · al-Askari · al-Mahdi
Concepts
Fourteen Infallibles
Occultation (Minor · Major)
Akhbar · Usul · Ijtihad
Taqleed · 'Aql · Irfan
Mahdaviat

Principles
Practices
Prayer · Fasting · Pilgrimage
Charity · Taxes · Jihad
Command Justice · Forbid Evil
Love the family of Muhammad
Dissociate from their Enemies
Holy cities
Mecca · Medina · Jerusalem
Najaf · Karbala · Mashhad
Samarra · Kadhimayn
Groups
Usuli · Akhbari · Shaykhi
Nimatullahi · Safaviya
Qizilbash · Alevism · Alawism
Bektashi · Tabarie

Scholarship
Marja · Ayatollah · Allamah
Hojatoleslam · Mujtahid
List of marjas · List of Ayatollahs
Hadith collections
Peak of Eloquence · The Psalms of Islam · Book of Fundamentals · The Book in Scholar's Lieu · Civilization of Laws · The Certainty · Book of Sulaym ibn Qays · Oceans of Light · Wasael ush-Shia · Reality of Certainty · Keys of Paradise
</table> In Twelver Shia Islam, the Major Occultation refers to the longer duration of the Occultation of the final and twelfth Imam, Muhammad al-Mahdi, continuing to the present day. According to the last letter of Muhammad al-Mahdi to Ali ibn Muhammad al-Samarri "from the day of your death [the last deputy] the period of my major occultation (al ghaybatul kubra) will begin. Hence forth, no one will see me, unless and until Allah makes me appear. My reappearance will take place after a very long time when people will have grown tired of waiting and those who are weak in their faith will say: What! Is he still alive?"

Another letter from Muhammad al-Mahdi says: "Rest assured, no one has a special relationship with Allah. Whoever denies me is not from my (community). The appearance of the Relief (al-Faraj) depends solely upon Allah. Therefore those who propose a certain time for it are liars. As to the benefit of my existence in occultation, it is like the benefit of the sun behind the clouds where the eyes do not see it." - Usul Al-Kafi, Ibn Kulayni

With regards to advice for his followers during his absence, he is reported to have said: "Refer to the transmitters of our traditions, for they are my hujja (proof) unto you and I am God's proof unto them."