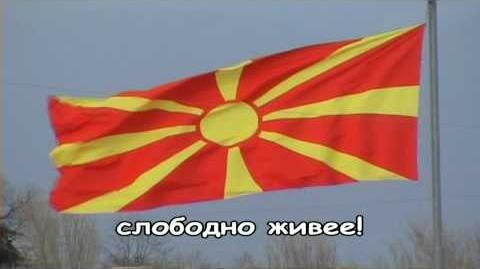 Macedonia /ˌmæsɨˈdoʊniə/, Macedonian: Македонија), officially the Republic of Macedonia (Macedonian: Република Македонија, transliterated: Republika Makedonija [rɛˈpublika makɛˈdɔnija] ), is a country in the central Balkan peninsula in southeastern Europe. It is one of the successor states of the former Yugoslavia, from which it declared independence in 1991. It was admitted to the United Nations in 1993 under the provisional reference of the Former Yugoslav Republic of Macedonia, sometimes abbreviated as FYROM.
Religion in Macedonia
Macedonia is a Christian majority country, 64.7% of Macedonia's people adhere to the Orthodox Church. Islam is the religion of 33% of Macedonia's population, making it the country with the fourth largest Muslim population in Europe, after Kosovo, Albania and Bosnia and Herzegovina.
Macedonia has a small Jewish, mostly Sephardi, population almost all of whom live in the capital, Skopje.
About 0.1% or less of the people of Macedonia are Buddhists.
See also
References
External links
| | |
| --- | --- |
| | This page uses content from the The Dhamma Wiki.'Dhamma Wiki content is released in the public domain. The Dhamma is free. The Buddha did not hold copyrights either. The sharing of the Buddha Dhamma is solely for the purpose of prolonging the buddhasasana through release. |
| | |
| --- | --- |
| | Religion Wiki uses embedded video content from YouTube.com. We do not host or upload any videos, films, or media files. Therefore, Religion Wiki is not responsible for the accuracy, compliance, copyright, legality, decency, or any other aspect of the content of other linked sites. If you have any legal issues please contact the appropriate media file owners / host sites. |