List of Metropolitans and Patriarchs of Ukraine
Talk

0
Share
Ad blocker interference detected!
Wikia is a free-to-use site that makes money from advertising. We have a modified experience for viewers using ad blockers

Wikia is not accessible if you've made further modifications. Remove the custom ad blocker rule(s) and the page will load as expected.
Metropolitans of Kiev and all Rus' (988-1458)
Metropolitan St. Michael I (988–992)
Metropolitan Leontios of Kiev (992—1008)
Metropolitan Ivan I (John) of Kiev (1019—1035)
Metropolitan Theopemptus of Kiev (1035—1049)
Metropolitan St Hilarion of Kiev (1051-1055)
Metropolitan Ephraim I (1055-1061)
Metropolitan Georges (1062-1073)
Metropolitan St John II up tо 1077 (80)-1089
Metropolitan John III (1089-1091)
Metropolitan St. Ephraim II (1091-1097)
Metropolitan St. Nicholas (1097-1101)
Metropolitan Nicephorus I of Kiev (1104-1121)
Metropolitan Nicetas (1122-1126)
Metropolitan Michael II (1130-1145)
Metropolitan Klymentii Smoliatych (1147-1159)
St. Constantine I 1156-1159
Theodore 1161-1163
John IV 1164-1166
Constantine II 1167-1169
Michael 1171
Nicephorus II 1182-1198
Matthew 1200 (01)-1220
Cyril I 1225-1233
Cyril II 1233-1236
Joseph 1237-1240
Metropolitan Petro Akerovych 1241–1246
Metropolitan St. Cyril III 1247-1281
Metropolitan St. Мaximus 1285-1305
.....
Metropolitan Theognostus 1328-1353
Metropolitan Teodoryt 1351-1354
Metropolitan Roman 1354-1361
Metropolitan Gregory Tsamblak 1414-1420
Metropolitan Gerasimus 1432-1435
Metropolitan Isidore 1433-1458
Metropolitans of Kyiv, Halychyna and All Rus'
In 1448, the Moscow metropolia split from the Kyiv Metropolia and proclaimed itself autocephalous.
Gregory II (Bulgarian) 1458-1473
Misail Pstruch (Mikhail Drucki) 1474-80
Symeon mentioned in 1481-1488
Jonah (Glezna) mentioned in 1492
St Macarius 1495-1497
Joseph (Bolgarynovich) 1498-1501
Jonah 1503-1507
Joseph (Soltan) 1508-1521
Joseph (Rusin) 1522-1533
Macarius (Moskvytianin) 1534-1555
Sylvester (Bel'kevich) mentioned in 1556-1567
Jonah (Protasevich) 1568-1577
Elijah (Kucha) 1577-1579
Onesiphorus (Devochka) 1579-1589
Michael (Rogoza) 1589-1596
Metropolitans of Kyiv, Halychyna and All Rus', Exarchs of the Oecumenical Throne
Mykhaylo Rogoza 1588-1599
Ipatiy Potiy 1600-1613
Yosyf Velyamin-Rutskyi 1613-1637
Rafail Korsak 1637-1640
Antin Selyava 1641-1655
Gavryil Kolenda 1666-1647
Kypriyan Zhokholovskyi 1647-1693
Lev Slyubuch-Zelenskyi 1694-1708
Yuriy II Vinnytskyi 1708-1713
Lev II Kyshka 1714-1728
Anatasiy Sheptytskyi 1715-1746
Felytsiyan-Fylyp Volodkovych 1762-1778
Lev Sheptytskyi 1778-1779
Yason Smogorzhevskyi 1787-1788
Teodosiy Rostotskyi 1778-1805
Irakliy Rostotskyi (right-bank) 1806-1809
Grygoriy Kokhanovych (right-bank) 1809-1814
Yosaf Bulgak (right-bank) 1817-1838
Antin Angelovych 1808-1814
Mykhaylo Levytskyi 1816-1858
Grygoriy Yakhymovych 1860-1866
Spyrydon Lytvynovych 1864-1869
Yosyf Sembartovych 1870-1882
Sylvester Sembartovych 1882-1898
Yulian Saskuilovskyi 1899-1990
Andriy Sheptytskyi 1900-1944
Yosyf Slipyi 1944-1984
Myroslav Lyubachivskyi 1984-2000
Metropolitan of Kyiv and All Ukraine (Ukrainian Autocephalous Orthodox Church)
Reestablished as a Patriarchy (Ukrainian Orthodox Church)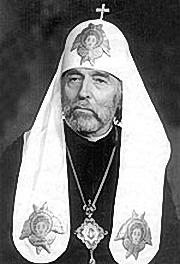 Major Archbishops of Kyiv-Halych (UGCC)
See also
Source