Ad blocker interference detected!
Wikia is a free-to-use site that makes money from advertising. We have a modified experience for viewers using ad blockers

Wikia is not accessible if you've made further modifications. Remove the custom ad blocker rule(s) and the page will load as expected.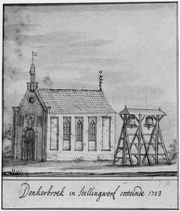 The Laurenstjerke is a Dutch protestant church located in Donkerbroek, The Netherlands. Since 19xx the Laurenstjerke has formed a congregation with the dutch reformed church in Haule. The church community is affiliated with the Dutch Protestant Churches (PKN), which belongs within the Protestant tradition of Christianity. The church's beliefs were originally calvinistic.

There is no exact date of the Origin of the church. We do know that at least one church was present in 1502. One of the bells of the bell tower bears the inscription:
"Anno Domini MCCCCCII Laus Deo Jhesus Mary Johannis. Wou fudere Borch cs Johannes Gerhardus Clean."
From scriptures there is knowledge that it was a Roman Catholic church dedicated to St. Lawrence (St. Laurentius in dutch and St Laurens in Frisian).
In the 16th Century the protestants have rebuilded the church. After the reformation the church was united with the church in Oosterwolde.
On July 13, 1700 marked the end of the band. It was decided that Donkerbroek and Haule would unite into one church.
After the restoration in 2007-2008 the church has decided to use the original name St.Laurentius again. But there were already so many churches name St.Laurentius. As answer on this the congregation has decided to translate in frisian[1]: de Laurentsjerke.
Belfry History
This is a wooden bell tower. It contains two clocks, namely a large bell from 1520 and a little bell probably from the 14th century.
There is an incription on the big bell: JHESUS MARIA JOHANNES WOU FUDERE GHERARDUS SCHIIENBORCH QZ JOHANNES ANNO DOMINI M CCCCC XX LAUS DEO The little bell has no inscription.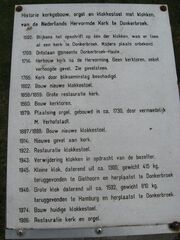 History
The Reformed Church in 1714 built with energy conservation foundations of older church pulpit, and doophek. The organ, made in 1723 for the Catholic Church Jutphaas. In 1879 transferred to Donkerbroek. Given the inscriptions on the pipes, the organ by M. Verhofstadt (in collaboration with one another?) Made. Double bell tower with two bells peal, one of G. of Wou and J. Fine Borch, 1520, diam. 111.4 cm. and an anonymous watering from the 14th century, diam. 89.3 cm.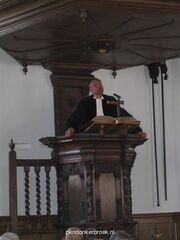 donkerbroek
Donkerbroek is a village consisting of about 1900 inhabitants in the municipality of Ooststellingwerf in the east of Friesland in the Netherlands.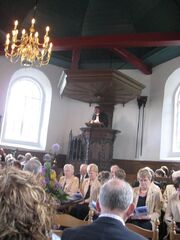 gallery
notes and references
↑

Frisian is the second language in the Netherlands and and is spoken in the province Friesland
Google map
notes
We got permission with posting the video with the baptize service from Friso Yoyon Schaap. Owner of the video and father
external links
| | |
| --- | --- |
| | Religion Wiki uses embedded video content from YouTube.com. We do not host or upload any videos, films, or media files. Therefore, Religion Wiki is not responsible for the accuracy, compliance, copyright, legality, decency, or any other aspect of the content of other linked sites. If you have any legal issues please contact the appropriate media file owners / host sites. |