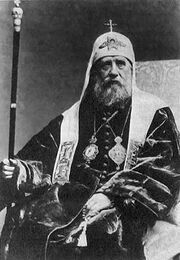 The Koukoulion (Slavonic: Kukol) is a traditional headress worn by monks of the highest degree in the Eastern Orthodox Church. (See Degrees of Eastern Orthodox monasticism.)
From the 17th century, following the reforms of Patriarch Nikon, the upper vesture worn by monks of the Great Schema (skhimonakh) is in the form of a pointed hood with two long Lappets which cover the back and breast. It is black in color, and embroidred with crosses, six-winged seraphim, and the text of the Trisagion. It is worn above the mandyas (monastic mantle), and is the same for both monks and nuns. In the context of monastic vows it is called the koukoulion of kindliness, and the helmet of salvation. The koukoulion replaces the klobuk which is worn by the monastics of lower ranks.
The Patriarch of Moscow and all Russia wears a white koukoulion with a "Zion", a stiffened point topped by a cross. He wears this ex officio, whether or not he has been tonsured into the Great Schema. Koukoulia are also worn by the primates of certain other Orthodox Churches, for example the Catholicos-Patriarch of All Georgia.
References
Philippi, Dieter (2009). Sammlung Philippi - Kopfbedeckungen in Glaube, Religion und Spiritualität,. St. Benno Verlag, Leipzig. ISBN 978-3-7462-2800-6.

 
See also
Ad blocker interference detected!
Wikia is a free-to-use site that makes money from advertising. We have a modified experience for viewers using ad blockers

Wikia is not accessible if you've made further modifications. Remove the custom ad blocker rule(s) and the page will load as expected.