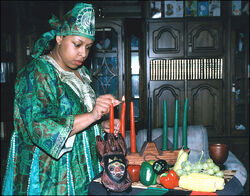 The kinara is the candle holder used in Kwanzaa celebrations in the United States. Its divergent shape represents the roots that African Americans have in continental Africa. During the week-long celebration of Kwanzaa, seven candles are placed in the kinara - three red on the left, three green on the right, and a single black candle in the center.
The seven candles represent the Seven Principles (or Nguzo Saba) of Kwanzaa. Red, green, and black are the symbolic colors of the holiday.
During the week of Kwanzaa, a new candle is lit on the kinara each day. The center black candle is lit first, and the lighting alternates between the red and green candles beginning with the outermost red candle and moving towards the center. In this way each day of Kwanzaa is dedicated to the contemplation of one of the Seven Principles.
The ritual of lighting the kinara closely resembles that of the Menorah during the Jewish holiday of Hannukah.
Ad blocker interference detected!
Wikia is a free-to-use site that makes money from advertising. We have a modified experience for viewers using ad blockers

Wikia is not accessible if you've made further modifications. Remove the custom ad blocker rule(s) and the page will load as expected.