Personality and attitudes
Attitudes in general
One of the persons who knew Escrivá most was the Bishop of Madrid where Opus Dei was founded, Bishop Leopoldo Eijo y Garay, for Escrivá would visit and report to him quite frequently and the two established very strong bonds of friendship. In a 1943 report to Rome, the bishop stated: "The distinctive notes of his character are his energy and his capacity for organization and government; with an ability to pass unnoticed. He has shown himself most obedient to the Church hierarchy--one very special hallmark of his priestly work is the way he fosters, in speech and in writing, in public and in private, love for Holy Mother Church and for the Roman Pontiff". Eijo y Garay wrote to the Jesuit Provincial of Toledo, Carlos Gomez Martinho, S.J. in 1941: "Fr. Escrivá is an exemplary priest, chosen by God for apostolic enterprises; humble, prudent, self-sacrificing in work, docile to his bishop, of outstanding intelligence and with a very solid spiritual and doctrinal formation". Eijo y Garay also told a leader of the Falange who went to consult the bishop on the "secret and Masonic" society founded by Escrivá: "To think that Fr. Josemaría Escrivá is capable of creating anything secret is absurd. He is as frank and open as a child!"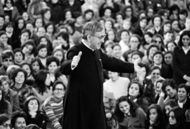 Dr. Viktor Frankl, an accomplished Austrian Author, Psychiatrist, Neurologist, the founder of Logotherapy and Nazi death-camp survivor, met Escrivá in Rome in 1970. Later he wrote of "the refreshing serenity which emanated from him and warmed the whole conversation", and "the unbelievable rhythm" with which his thought flowed, and finally "his amazing capacity" for getting into "immediate contact" with those he was speaking to. Frankl went on: "Escrivá evidently lived totally in the present moment, he opened out to it completely, and gave himself entirely to it".
[1]
At the end of the meeting, Frankl whispered to the translator, "This man is a spiritual atomic bomb".
[2]
According to Alvaro del Portillo who lived for forty years as the closest collaborator of Escriva, there is one basic quality of Escriva "that pervaded everything else: his dedication to God, and to all souls for God's sake; his constant readiness to correspond generously to the will of God."[3] Paul VI summarized his view of what he called the "extraordinariness" of Escrivá's sanctity in this way: "He is one of those men who has received the most charisms (supernatural gifts) and have corresponded most generously to them."
"The first impression one gets from watching Escrivá 'live'," John L. Allen, Jr. writes after watching some films on the founder of Opus Dei in 2005, "is his effervescence, his keen sense of humor. He cracks jokes, makes faces, roams the stage, and generally leaves his audience in stitches in off-the-cuff responses to questions from people in the crowd".[4]
Towards God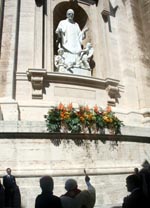 Prayer
On the centennial of Escrivá's birthday, Cardinal Ratzinger (who became Pope Benedict XVI) commented: "I have always been impressed by Josemaría Escrivá's explanation of the name 'Opus Dei': an explanation ... gives us an idea of the founder's spiritual profile. Escrivá knew he had to found something, but he was also conscious that what he was founding was not his own work, that he himself did not invent anything and that the Lord was merely making use of him. So it was not his work, but Opus Dei (God's Work). [This] gives us to understand that he was in a permanent dialogue, a real contact with the One who created us and works for us and with us. ... If therefore St Josemaría speaks of the common vocation to holiness, it seems to me that he is basically drawing on his own personal experience, not of having done incredible things himself, but of having let God work. Therefore a renewal, a force for good was born in the world even if human weaknesses will always remain".[5]
In his canonization homily, Pope John Paul II described Escrivá as "a master in the practice of prayer, which he considered to be an extraordinary 'weapon' to redeem the world...It is not a paradox but a perennial truth; the fruitfulness of the apostolate lies above all in prayer and in intense and constant sacramental life". In John Paul II's Decree of Canonization, he refers to the five short prayers or aspirations of Escrivá through which "one can trace the entire life story of Blessed Josemaría Escrivá. He was barely sixteen when he began to recite the first two aspirations [Domine, ut videam!, Lord, that I might see! and Domina, ut sit!, Lady, that it might be!], as soon as he had the first inklings of God's call. They expressed the burning desire of his heart: to see what God was asking of him, so that he might do it without delay, lovingly fulfilling the Lord's will.[6] The third aspiration [Omnes cum Petro ad Iesum per Mariam!, All together with Peter to Jesus through Mary!] appears frequently in his writings as a young priest and shows how his zeal to win souls for God went hand in hand with both a firm determination to be faithful to the Church and an ardent devotion to Mary, the Virgin Mother of God. Regnare Christum volumus! We want Christ to reign!:[7] these words aptly express his constant pastoral concern to spread among all men and women the call to share, through Christ, in the dignity of God's children. God's sons and daughters should live for the purpose, to serve Him alone: Deo omnis gloria! All the glory to God![8][9]
During the thanksgiving Mass for the canonization of St. Josemaría, John Paul II, said: "In the Founder of Opus Dei, there is an extraordinary love for the will of God. There exists a sure criterion of holiness: fidelity in accomplishing the divine will down to the last consequences. For each one of us the Lord has a plan, to each he entrusts a mission on earth. The saint could not even conceive of himself outside of God's plan. He lived only to achieve it. St Josemaría was chosen by the Lord to announce the universal call to holiness and to point out that daily life and ordinary activities are a path to holiness. One could say that he was the saint of ordinary life".[10]
Towards the liturgy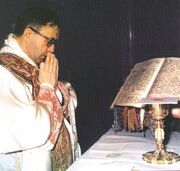 Escrivá conceived the Mass as the "center and root of the Christian's interior life," a terminology which was later used by the Second Vatican Council.[11] According to Giovanni Battista Re, Prefect of the Congregation for Bishops, "St. Josemaría strove with all his strength to make the Eucharist the center of his life...For him, Jesus was not an example to imitate from afar, an abstract moral ideal, but his Jesus, a person we should live alongside continuously".
The present Opus Dei prelate Bishop Javier Echevarría Rodríguez said that Escrivá strove to follow whatever was indicated by the competent authority regarding the celebration of Mass. When the new rites were adapted by the Catholic Church after Vatican II, Echevarría said that Escrivá "accepted the reform with serenity and obedience". Since his prayer was much integrated with the liturgy for the past 40 years, Escrivá found the shift difficult and asked Echevarría to coach him in celebrating the new rites. Although he missed the practices of the old rites, especially some gestures such as the kiss on the paten which showed love, he prohibited his followers to ask for any dispensation for him "out of a spirit of obedience to ecclesiastical norms". "He has decided to show his love for the liturgy through the new rite", commented Echevarría. However, when Msgr. Annibale Bugnini, Secretary of the Consilium for the Implementation of the Constitution on the Liturgy, found out about Escrivá's difficulties, he granted Escrivá the possibility of celebrating the Mass using the old rite. Whenever Escrivá celebrated this rite, he did so only in the presence of one Mass server.[12][13]
Mortification
Many of his biographers comment on his personal application of his teaching that "joy has its roots in the form of a cross" and that "suffering is the touchstone of love".[14] Escrivá was a practitioner of corporal mortification, a traditional means of penance. In his book The Way, his Maxim 208 reads: "Blessed be suffering. Loved be suffering. Sanctified be suffering...Glorified be suffering![15] John Paul II's Apostolic Letter on the Salvific Meaning of Suffering says: "Suffering, more than anything else, makes present in the history of humanity the powers of the Redemption." Speaking of Escriva, John Paul II stated in Christifideles omnes:[16] During the Spanish Civil War he personally experienced the fury of anti-religious persecution and gave daily proof of heroism in a constant priestly activity seasoned with abundant prayer and penance. It did not take long before many came to consider him a saint. When the war was over many bishops invited him to preach retreats to their clergy, thereby greatly contributing to the renewal of Christian life in Spain. Many religious orders and congregations also requested his pastoral services. At the same time, God allowed him to suffer public attacks. He responded invariably with pardon, to the point of considering his detractors as benefactors. But this Cross was such a source of blessings from heaven that the Servant of God's apostolate spread with astonishing speed."
Towards the Virgin Mary
John Paul II also stated on Sunday, 6 October 2002, after the Angelus greetings: "Love for our Lady is a constant characteristic of the life of Josemaría Escrivá and is an eminent part of the legacy that he left to his spiritual sons and daughters". The Pope also said that "St. Josemaría wrote a beautiful small book called The Holy Rosary which presents spiritual childhood, a real disposition of spirit of those who wish to attain total abandonment to the divine will".
Since he was 10–11 years old, he already had the habit of carrying the Rosary in his pocket. As a priest, he would ordinarily end his homilies and his personal prayer with a conversation with the Blessed Virgin. He instructed that all rooms in the centres of Opus Dei should have an image of the Virgin. He encouraged his spiritual children to greet these images when they entered a room. He pushed for a Marian apostolate, preaching that "To Jesus we go and to Him we return through Mary". While looking at a picture of the Virgin of Guadalupe giving a rose to Juan Diego, he commented: "I would like to die that way". On June 26, 1975, after entering his work room, which had a painting of the Virgin of Guadalupe, he slumped on the floor and died.[14]
Towards people
"Escrivá de Balaguer was a very human saint," preached John Paul II. "All those who met him, whatever their culture or social status, felt he was a father, totally devoted to serving others, for he was convinced that every soul is a marvellous treasure; indeed, every person is worth all of Christ's Blood. This attitude of service is obvious in his dedication to his priestly ministry and in the magnanimity with which he launched so many works of evangelization and human advancement for the poorest persons".[10]
He has been criticized for his attitudes towards women.[17] On the other hand, his supporters say that through him Opus Dei has been able to raise the quality of life of many women, and refer to his utmost respect for women and his interest in improving their lot.[14] From the conservative women's movement Elizabeth Fox-Genovese asserted: "Opus Dei has an enviable record of educating the poor and supporting women, whether single or married, in any occupation they choose". Bishops have also been happy that Opus Dei has raised the dignity of women due to its teachings that marriage and the family are a vocation.[14]
Towards his family
Opus Dei's founder changed his name many times over the course of his life. Four days after birth, he was baptized in the cathedral at Barbastro, Spain with the baptismal name recorded among Church records as José María Julián Mariano. "According to the entry in the baptismal register of the Church where he was christened, his surname was spelled Escriba." He was given the same first name as his father, José Escriba; his mother was named María de los Dolores Albás Blanc.
According to critics like Luis Carandell, Robert Hutchison, and Michael Walsh (an ex-Jesuit and ex-priest), before the Spanish Civil War (1936-1939), he began joining and adding the more aristocratic "y Albás" to his surname. In Castilian Spanish, use of the conjunction "y" ("and") joining a father's and mother's surnames is associated with aristocratic families.
One of the earliest members of Opus Dei, and a close friend for years, the architect Miguel Fisac, who later left Opus Dei, said that Escrivá found it embarrassing to have his father's family name since his father's firm went bankrupt. According to Fisac, he also had a "great affection he felt for the aristocracy" and was embarrassed that he was not associated with aristocratic family names. For this he is portrayed as ambitious by one historian: a "mixture of mysticism and ambition" (Blaye 1976:262).
But as early as his school days, José Escrivá had "adopted the rather more distinguished version spelled with a "v" rather than a "b". His name is spelled Escrivá in the memento of his first Mass. In 1943, when he was 41, Church records were altered on June 20 to memorialize the change: the registry book of the Barbastro cathedral and the baptismal certificate of José María were annotated to reflect "that the surname Escribá was changed to Escrivá de Balaguer". On June 16, 1940, the Spanish "Boletín Official del Estado" records that Father Escrivá requested of the government that he be permitted to change his "first surname so it will be written Escrivá de Balaguer". He justified the petition by claiming that "the name Escrivá is common in the east coast and Catalonia, leading to harmful and annoying confusion".
According to Vasquez de Prada, a writer, Opus Dei member, and official biographer who produced a three-volume biography of Escrivá, the move has nothing to do with ambition but with fairness and loyalty to his family's real name, a loyalty which his father, José Escriva, insisted on. The main problem is that in Spanish the letters b and v are pronounced in the same way, thus; many bureaucrats and clerics have made a mistake in transcribing the Escrivá family name in some official documents throughout the generations. The addition of "de Balaguer" was also a necessity felt by many Spanish families to distinguish their family names from others with the same name but who proceed from other regions, especially if the other families have histories which are peculiar and entirely different from one's own.
His brother Santiago states that his older brother Josemaria "loved the members of his family" and took good care of them.[18] When their father died, he says, Escrivá told their mother that "she should stay calm, because he will always take care of us. And he fulfilled this promise". Escrivá would find time in his busy schedule to chat and take a walk with his younger brother, acting like a father towards him. When the family transferred to Madrid, Escrivá followed the instructions of their father that he take up his doctorate in Law. "Thanks to his docility to this advice", says Santiago, "he was able to support the family by giving classes in Law, and with this he acquired a juridical mentality...which would later be so necessary to do Opus Dei".
Monsignor Escrivá also modified his first name. From the common José María, he changed it to the original Josemaría. Biographers state, that around 1935 [age 33], "he joined his first two names because his single love for the Virgin Mary and Saint Joseph were equally inseparable".
Towards his country
Many of his contemporaries recount the tendency of Escrivá to preach about patriotism (love for country) as against nationalism (disordered love for country which leads to hating other people).
However, there are quite a number of criticisms leveled upon him regarding his relationship with General Franco. Accusations of right-wing tendencies, like Escrivá's criticisms of the atrocities committed by Republican forces during the Spanish Civil War, are common. Critics point to an alleged Fascist link, saying that he was a supporter of Francisco Franco. [[Vittorio Messori says that this is part of the black legend against Escrivá and Opus Dei. Allen states that based on his research Escrivá could not be said to be pro-Franco (for which he was criticized for not joining other Catholics in openly praising Franco) nor anti-Franco (for which he was criticized for not being "pro-democracy"). According to Allen, there is no statement from Escrivá for or against Franco.
Escrivá's followers and some historians have emphasized his personal effort to avoid partiality in politics. Professor Peter Berglar, a German historian, asserts that Franco's falangists suspected Escrivá of "internationalism, anti-Spainism and Freemasonry" and that during "the first decade of Franco's regime, Opus Dei and Escrivá were attacked with perseverance bordering on fanaticism, not by enemies, but by supporters of the new Spanish State. Escrivá was even reported to the Tribunal for the Fight against Freemasonry."
There is a letter from Escrivá to Francisco Franco which his critics say show this supposed link. His detractors say that he implicitly supported Francoism's endorsement of National-Catholicism and the rise of Catholicism as the official religion of Spain. In the letter he also expresses some kind of Spanish patriotism. He wrote, "Although a stranger to any political activity, I cannot help but rejoice as a priest and Spaniard that Spain, through its Head of State, has officially accepted the law of God in accordance with the Catholic faith". However, his Catholic supporters assert that this letter expresses support for human rights, human dignity and freedom. Escrivá, together with the Popes, preached that all citizens should practice patriotism and love for their country, at the same time loving other nations.
Towards material and worldly things
In the teaching of Escrivá, all of creation has been sanctified by the God-made-flesh: movies, boardrooms, games and gardens are meetings places with the Father God who is near. He even preached a Christian materialism, in which the Christian is supposed to passionately love the world while fighting against his own lust, greed and vanity.
Escrivá accepted several awards:
The Grand Cross of Alfonso X the Wise (1951)
The Gold Cross of St. Raymond of Penafort (1954)
The Grand Cross of Isabel the Catholic (1956)
The Grand Cross of Charles III (1960)
Doctor Honoris Causa by the University of Zaragoza (Spain, 1960)
The Gold Medal by the City council of Barbastro (1975)
In 1968, Escrivá petitioned[19] for and was granted by the Government of Spanish dictator Franco the title of Marques de Peralta. He was granted the title of Marques for four years, from 1968 to 1972, when Escrivá left the title in favour of his brother.
The Maxim 677 in his book "The Way" says:[20]
| | | |
| --- | --- | --- |
| " | Honours, distinctions, titles: things of air, puffs of pride, lies, nothingness. | " |
Several pro-Opus Dei biographers say that he sought neither these awards nor the title, but that they were nevertheless granted to him.[14] They say that he accepted them out of charity to those who were granting these and that he did not give the slightest importance to these awards. These biographers also state that he prohibited his followers from asking for the title of Marques de Peralta, and was only forced to accept it due to the advice of some Cardinals who told him that he had the obligation to accept it for the sake of his brother, Santiago, and as a way of being an example of fulfilling civil duties and exercising rights. Although official biographers do not explain the reason why Escrivá retained the title for 4 years, his brother Santiago said: "The decision was heroic because he knew that he will be vilified as a result... Josemaría did what is best for me. After the right amount of time has passed, without making use of the title (in fact he never had the intention of using it), he passed the title on to me."[18]
Many biographers also refer to his spirit of detachment and poverty.[14] Escrivá taught that material things are good, but that people should not get attached to them, but should only serve God. He said "he has most who needs least." Many biographers report that it took only 10 minutes to gather his possessions after his death.
---
Ad blocker interference detected!
Wikia is a free-to-use site that makes money from advertising. We have a modified experience for viewers using ad blockers

Wikia is not accessible if you've made further modifications. Remove the custom ad blocker rule(s) and the page will load as expected.