Biography
Early life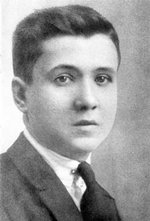 The son of José Escrivá y Corzán and wife María de los Dolores Albás y Blanc, Josemaría Escrivá was born 9 January, 1902, in the small town of Barbastro, in Huesca, upper Aragon, Spain, the second of six children and the first of two sons. Escrivá first felt that "he had been chosen for something," it is reported, when he saw footprints left in the snow by a
monk
walking barefoot.
[1]
[2]
He then decided that the best way to follow God's call was by becoming a priest of the Roman Catholic Church. After obtaining the blessing and help of his father, he studied in both Logroño and Zaragoza and was ordained a deacon in Zaragoza on Saturday, December 20, 1924. He was ordained a priest, also in Zaragoza, on Saturday, March 28, 1925. After a brief clerical appointment to a parish in a rural area he went to Madrid, the Spanish capital, in 1927 to study law at university.
Mission as the founder of Opus Dei
A prayerful retreat helped him to further discern what he considered to be God's will for him, and on October 2, 1928 he "saw" Opus Dei (English: Work of God) as a new lay movement through which Catholics might learn to sanctify themselves through their secular work. According to John Paul II's Decree Cause Of Canonization which contains a condensed biography of Escrivá, "[t]o this mission he gave himself totally. From the beginning his was a very wide-ranging apostolate in social environments of all kinds. He worked especially among the poor and the sick languishing in the slums and hospitals of Madrid".
During the Spanish Civil War, Escrivá went into hiding to escape persecution by anti-clerical elements, although he continued ministering to Catholics, potentially risking his life. When the war ended in 1939, he was able to resume his studies in Madrid and complete a doctorate in law.
The Priestly Society of the Holy Cross, attached to Opus Dei, was founded on Sunday, 14 February 1943, and Escrivá himself moved to Rome in 1946. The Decree Cause Of Canonization states that "in 1947 and on Monday, 16 June 1950, he obtained approval of Opus Dei as an institution of pontifical right. With tireless charity and operative hope he guided the development of Opus Dei throughout the world, activating a vast mobilization of lay people.... He gave life to numerous initiatives in the work of evangelization and human welfare; he fostered vocations to the priesthood and the religious life everywhere....Above all, he devoted himself tirelessly to the task of forming the members of Opus Dei".
Later years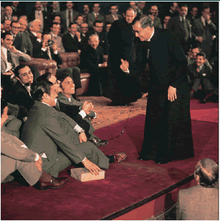 After earning a doctorate in theology from the Lateran University, he was appointed Consulter to two Vatican Congregations and made an honorary member of the Pontifical Academy of Theology. Pope Pius XII acknowledged Escrivá's work by making him an Domestic Prelate, which allowed Escrivá to use the title of Monsignor, and by granting Opus Dei his official approval on June 16, 1950. Later on, Escrivá also was consulted by many Cardinals during the Second Vatican Council (1962-65). Many biographers commented on his contribution regarding the universal call to holiness, the role of the laity, the importance of the Holy Mass as the centre and root of the Christian life. Escrivá worked throughout his life to foster Opus Dei's work, so that when he died 26 June, 1975 Opus Dei covered five continents and had more than 60,000 members from eighty nationalities.
---
Ad blocker interference detected!
Wikia is a free-to-use site that makes money from advertising. We have a modified experience for viewers using ad blockers

Wikia is not accessible if you've made further modifications. Remove the custom ad blocker rule(s) and the page will load as expected.