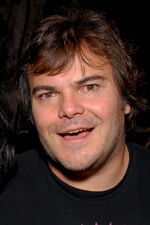 Thomas Jacob "Jack" Black (born August 28, 1969) is a Jewish American actor, comedian, and musician. He makes up one half of the comedy and heavy metal music duo Tenacious D. His acting career is extensive, starring primarily as bumbling, cocky, but internally self-conscious outsiders in comedy films. He is a member of the Frat Pack, a group of comedians who have appeared together in several Hollywood films. Black has been nominated for a Golden Globe award. He has won an MTV Movie Award, and a Nickelodeon Kids Choice Award.
Early life
Black was born in Santa Monica, California, the son of two satellite engineers, Judith (née Cohen), who worked on the Hubble Space Telescope[1] and Thomas William Black. Black's mother is Jewish and his father converted to Judaism[2][3]; Black was thus raised as Jewish.[4] On The Tonight Show he said his surname may have come from the Scottish occupational name Blacksmith.[5] Black's parents divorced when he was 10. Black moved to Culver City with his father and frequently visited his mother's home. As a child, Black appeared in a commercial for the Activision game Pitfall! in 1982,[6] which was later shown during an appearance on Jimmy Kimmel Live and again on The Tonight Show with Jay Leno. When Black entered high school, his parents suggested that he should transfer to the Poseidon School, a private secondary school engineered specifically for students struggling in the traditional school system.[7] Black eagerly accepted the proposition, afraid that he would only be bullied if he remained in public school. He also attended the Crossroads School, where he excelled in drama. Black later attended UCLA but dropped out during his sophomore year to pursue a career in the entertainment business, at which point his father discontinued his financial support. Fellow UCLA veteran Tim Robbins later cast Black in Bob Roberts. He also had recurring roles on the HBO sketch comedy series Mr. Show.
Acting career
Black's acting career began with prime time TV. He played roles on several shows such as: The Golden Palace (Taxi Driver), Life Goes On (skinhead), Northern Exposure (Kevin Wilkins, prom king), HBO's Mr. Show, and Picket Fences (Curtis Williams). In a season 3 episode of The X-Files, titled "D.P.O.", Black played Bart 'Zero' Liquori, friend to Darren, a teen who could cause lightning strikes, played by Giovanni Ribisi. Black appeared in an un-aired pilot episode for a show directed by Ben Stiller called Heat Vision and Jack where he played an ex-astronaut pursued by actor Ron Silver. He was accompanied by his friend who had merged with a motorcycle, voiced by Owen Wilson.
Black later took on small roles in Airborne, Demolition Man, Waterworld, The Fan, The NeverEnding Story III, The Cable Guy, Bob Roberts, Mars Attacks!, The Jackal, Bye Bye Love, Jesus' Son, Dead Man Walking, Saving Silverman, Enemy of the State, and I Still Know What You Did Last Summer. In 2000, Black appeared in High Fidelity as a wild employee in John Cusack's record store, a role which Black himself considered his breakout.
His career soon led to leading roles in films such as Shallow Hal, Orange County, School of Rock, Envy, King Kong, Nacho Libre, Tenacious D in The Pick of Destiny, Be Kind Rewind, Kung Fu Panda, and Tropic Thunder.
He guest-starred on The Office along with Cloris Leachman and Jessica Alba in a movie within the show.
Jack Black has appeared numerous times on the "untelevised TV network" short film festival Channel101, starring in the shows Computerman, Timebelt, and Laserfart. He also provided an introduction for the un-aired sketch comedy, Awesometown, donning a Colonial-era military uniform. In the introduction, he claims to be George Washington (and takes credit for the accomplishments of other American Presidents such as Thomas Jefferson and Abraham Lincoln), and gives viewers a general idea as to what they should expect from the show. Black has also guest starred in the Adult Swim show Tom Goes to the Mayor as a bear trap store owner.
Black hosted the 2006 Nickelodeon Kids Choice Awards on April 1, 2006 and hosted it again on March 29, 2008. He also appeared on the MTV video music awards on August 31, 2006. He is a member of the Frat Pack, a group of comedy actors who frequently work together, which also includes Owen Wilson, Luke Wilson, Ben Stiller, Will Ferrell, Vince Vaughn, and Steve Carell. Jack Black has made five appearances on Saturday Night Live: three times as a host, once as a musical guest (with Kyle Gass as Tenacious D), and another appearance with Tenacious D, not as a host or musical guest. He produced and appeared on VH1's internet video show Acceptable.TV.[8]
Black has voice acted for The Simpsons episode "Husbands and Knives", which aired 18 November, 2007, voicing the friendly owner of the rival comic book store, Milo. Black appeared in a Who Wants To Be A Millionaire celebrity edition along with Denis Leary, Jimmy Kimmel and others and walked away with US$125,000 . On December 14, Jack Black hosted the 2008 Spike Video Game Awards. He voiced the main character, roadie Eddie Riggs, in the rock-themed action-adventure video game, Brütal Legend. At the 2009 Spike Video Game Awards, he was awarded Best Voice for the voice of Eddie Riggs in Brütal Legend.
Music career
Black is the lead singer for the rock comedy band Tenacious D. They have released two albums, a self-titled debut, and the follow up, The Pick of Destiny, from which one of their songs "The Metal" was used in the music video game "Guitar Hero III: Legends of Rock" and "Master Exploder" also went on to be used in music video game Rock Band 2 along with their album 'Tribute'. These two songs feature in the film Tenacious D in The Pick of Destiny. The film, directed by Tenacious D veteran Liam Lynch, features recurring characters such as Lee the superfan and Sasquatch. Tim Robbins cameos as does Dave Grohl as Satan. Ben Stiller also makes an appearance as a worker at Guitar Center.
Tenacious D helped the United Mitochondrial Disease Foundation[9] to raise awareness and funds in San Diego, California on June 16, 2007. Tenacious D can be seen performing in the Pauly Shore film Bio-Dome where the duo are performing their song "The Five Needs" at a "Save the Environment" party. Black was also a guest star on an episode of The Ellen DeGeneres Show entitled "Ellen the Musical", alongside Broadway star Kristin Chenoweth and teenage singer-actress Olivia Olson. On the show, besides singing, he discussed his then-upcoming film Nacho Libre with the host.
Black has also appeared on Dave Grohl's Probot album, providing vocals for the hidden song "I Am The Warlock", and Lynch's Fake Songs album, providing vocals for the song "Rock and Roll Whore". Black performed a cover of Marvin Gaye's "Let's Get It On" in the last sequence of High Fidelity. He lent his musical abilities to the Queens of the Stone Age song "Burn the Witch" with rhythmic stomps and claps, some performed with his eyes closed. He also provided vocals for The Lonely Island's track "Sax Man" from the album Incredibad.
Black has appeared in music videos of Beck "Sexx Laws"; Foo Fighters "Learn To Fly", "Low", and "The One"; The Eagles of Death Metal's "I Want You So Hard (Boy's Bad News)"; Sum 41's "Things I Want"; and Weezer's "Photograph."
Personal life
Regarding exercise, Black has been quoted as saying that Ultimate is the only form of exercise that he doesn't hate. Black dated actress and comedian Laura Kightlinger from 1997 until 2005. In January 2006, he became engaged to Tanya Haden (daughter of the jazz double bassist Charlie Haden, and sister of violinist and singer Petra Haden). Haden herself is an accomplished cellist. Both attended Crossroads school, but met again 15 years after graduating, at a friend's birthday party. Black proposed marriage around Christmas 2005. They married on March 14, 2006, in Big Sur, California.[10] Their son, Samuel "Sammy" Jason Black, was born on June 10, 2006, at Cedars-Sinai Medical Center in Los Angeles.[11] On May 23, 2008, Black and his wife had their second child, Thomas David Black.[12]
Comedic style
Black's comedic style combines many key elements from both sides of the traditional double act. Black typically begins a skit in which he presents an earnest introduction to a premise or subject that quickly reveals itself to be flawed or fundamentally ludicrous. Black then switches completely to a far-extreme caricature of human emotion.
His would-be straight-man Gass often functions to trigger these outbursts. Tenacious D's subject matter illustrates this technique. In "Tribute", Tenacious D tells a story in which they claim to have performed "The Greatest Song in the World" for a "Shiny Demon" who would otherwise "EAT THEIR SOULS". In "Inward Singing", Black does not merely discover a new vocal technique, he discovers what he refers to as "the most powerful tool in singing technology since yodeling". Black's skits also use the catchphrase "more cushion for the pushin'", a self-mocking reference to his abdominal body fat.
Internet
In December 2008, Black appeared in a video on funnyordie.com as Jesus in a musical titled "Prop 8 The Musical" [13] The video was shot in Santa Monica, California, at Santa Monica Community College. It was the brainchild of five time Oscar nominee Marc Shaiman and was directed by Adam Shankman.
Filmography
Year
Film
Role
Notes
1991
Our Shining Moments
Teenage Boy
1992
Bob Roberts
Roger Davis
1993
Demolition Man
Wasteland Scrap
Airborne
Augie
1994
The NeverEnding Story III
Slip
Blind Justice
Private
1995
Waterworld
Pilot
The X-Files
Bart "Zero" Liquori
On episode "D.P.O. - Season 3, part 3"
Touched By An Angel
Monte
On episode "Angels On The Air"
Dead Man Walking
Craig Poncelet
1996
Bio-Dome
Music Performer on Campus
Mars Attacks!
Billy Glenn Norris
The Fan
Technician
The Cable Guy
Rick
Crossworlds
Steve
1997
The Jackal
Ian Lamont
Bongwater
Devlin
1998
I Still Know What You Did Last Summer
Titus Telesco
Enemy of the State
Fiedler
1999
Jesus' Son
Georgie
Cradle Will Rock
Sid
2000
High Fidelity
Barry
2001
Shallow Hal
Hal Larson
Saving Silverman
J.D. McNugent
Madtv
Musical Guest (Tenacious D)
SGC2C
Himself
(credited as Tenacious D)
2002
Orange County
Lance Brumder
Ice Age
Zeke
Voice
2003
School of Rock
Dewey Finn
Nominated for a Golden Globe[14]
Melvin Goes to Dinner
Mental Patient
2004
Shark Tale
Lenny
Voice
Envy
Nick Vanderpark
Anchorman: The Legend of Ron Burgundy
Motorcyclist
Uncredited (cameo)
2005
King Kong
Carl Denham
2006
Nacho Libre
Nacho
The Holiday
Miles
Tenacious D in The Pick of Destiny
Jack "Jables" Black
2007
Margot at the Wedding
Malcolm
Walk Hard: The Dewey Cox Story
Paul McCartney
Uncredited
The Simpsons
Milo
Guest voice in episode "Husbands and Knives"
2008
Be Kind Rewind
Jerry
Kung Fu Panda
Po
Voice
Tropic Thunder
Jeff "Fats" Portnoy
2009
Year One
Zed
Brütal Legend
Eddie Riggs
Video game
2010
Gulliver's Travels
Gulliver
"In production"
2011
Kung Fu Panda: The Kaboom of Doom
Po
Voice; "pre-production"
Ye Olde Times
Henery Woodsman
"In development"
References
External links
Ad blocker interference detected!
Wikia is a free-to-use site that makes money from advertising. We have a modified experience for viewers using ad blockers

Wikia is not accessible if you've made further modifications. Remove the custom ad blocker rule(s) and the page will load as expected.