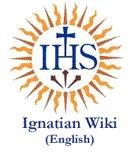 The Ignatian Wiki was started on January 4, 2006 and provides resources of a non-commercial, informational and educational nature that are designed to help students, faculty, staff, administrators, alumni, donors, parents, and other constituencies of Jesuit institutions understand and further the Catholic and Jesuit identity of these institutions. The students at all Jesuit schools are encouraged to add knowledge they have developed through their education about the Society of Jesus or Catholicism.
There is no official affiliation between this Wiki and any particular Jesuit community or Jesuit institution.
External link
---
Ad blocker interference detected!
Wikia is a free-to-use site that makes money from advertising. We have a modified experience for viewers using ad blockers

Wikia is not accessible if you've made further modifications. Remove the custom ad blocker rule(s) and the page will load as expected.