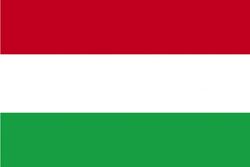 Hungary (/ˈhʌŋɡəri/; Hungarian: Magyarország, pronounced [ˈmɒɟɒrorsaːɡ], officially the Republic of Hungary (Magyar Köztársaság hu-Magyar "Hungarian Republic"), is a landlocked country in the Carpathian Basin of Central Europe, bordered by Austria, Slovakia, Ukraine, Romania, Serbia, Croatia, and Slovenia. Its capital is Budapest. Hungary is a member of the Organisation for Economic Co-operation and Development, NATO and the European Union and is a Schengen state. The official language is Hungarian.
Religion in Hungary
Hungary is a Christian-majority country, Christians make up 74.4% of the population. The Roman Catholic Church is the most popular Christian denomination, followed by 51.95 of Hungarians, various sects of Protestantism, chiefly Calvinism, are followed by 19.5% of the poulation.
Judaism is the religion of 0.1% of the people of Hungary. The largest synagogue in Europe is located in Budapest.
About 0.1% of Hungarians are Buddhists.
See also
References
External links
| | |
| --- | --- |
| | This page uses content from the The Dhamma Wiki.'Dhamma Wiki content is released in the public domain. The Dhamma is free. The Buddha did not hold copyrights either. The sharing of the Buddha Dhamma is solely for the purpose of prolonging the buddhasasana through release. |
Ad blocker interference detected!
Wikia is a free-to-use site that makes money from advertising. We have a modified experience for viewers using ad blockers

Wikia is not accessible if you've made further modifications. Remove the custom ad blocker rule(s) and the page will load as expected.