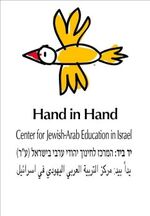 Hand in Hand: Center for Jewish-Arab Education in Israel is a network of award-winning bilingual (Hebrew-Arabic) schools where Jewish and Palestinian citizens of Israel can study together. Hand in Hand was co-founded by Israeli Arab educator Amin Khalaf and Israeli American educator Lee Gordon in 1997 with 50 students at two campuses. [1]
History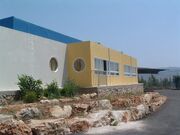 Hand in Hand was founded in 1997 by two Israeli educators, one Arab and one Jewish. They founded the first two schools in 1998, one in the Galilee region near Misgav and one in Jerusalem. These first two schools grew, and in the summer of 2003, a group of interested parents from the Wadi Ara region in the Arab Triangle met to express interest in establishing a third Hand in Hand School in their region. After delays which included difficulty winning recognition from the Israeli Ministry of Education, the Bridge over the Wadi (Gesher al HaWadi, Hebrew: גשר על הואדי) school opened on September 1, 2004 with 106 students.[2]
Hand in Hand's fourth school opened in September 2007 in the city of Beer Sheva, where 60 Arab and Jewish students study in two kindergarten classes.[3] On October 21, 2007, Hand in Hand's Max Rayne school opened in Jerusalem's Pat neighborhood near the Arab village of Beit Tsafafa. The new campus was built with $11 million from donors including the Jerusalem Foundation, the Rayne Foundation, and other European donors.[4] Including the new Beer Sheva school, Hand in Hand now serves close to 1,000 students.[3]
Educational philosophy
Creating an alternative model of education integrating Arab and Jewish children
Teaching bilingualism, multiculturalism and equality
Building a community of children, teachers, parents, extended family and neighbours through friendship and concrete action
Breaking negative stereotypes and cultivating mutual respect and understanding
Engaging local municipalities, regional councils and the national government in a process of dialogue and reconciliation
Creating model classrooms where half of the students are Jewish and half are Arab, with Arab and Jewish teachers working together, speaking each other's language and educating for tolerance and co-existence
Providing a dynamic example that Jews and Arabs can study, work and live together in peace.
Schools
Today nearly 1000 students study at the four Hand in Hand schools in Jerusalem, the Galilee Region, Wadi Ara, and Beer Sheva.[5] •Hand in Hand Max Rayne Jerusalem School (founded 1998, 400 students)
•Hand in Hand Galilee School (founded 1998, 200 students)
•Hand in Hand "Gesher al HaWadi" School (founded 2004, 200 students)
•Hand in Hand Beer Sheva School (founded 2007, 60 students) [6]
Educational Philosophy
Hand in Hand's approach to bilingual education aims to create equality, understanding, and coexistence between the Arab and Jewish populations of Israel, who often live segregated from one another. Classes at Hand in Hand schools are co-taught by an Arab and Jewish teacher, each teaching in his or her native language. Teachers do not translate, providing a strong incentive for students to attain fluency in the second language.[7]
Controversy
Some neighbors have reacted negatively to the new Hand in Hand Max Rayne Jerusalem Bilingual school. While some residents harbor logistical concerns about issues such as traffic and parking, others are concerned about intermarriage and assimilation between Jewish and non-Jewish students.[8]
See also
References
Ad blocker interference detected!
Wikia is a free-to-use site that makes money from advertising. We have a modified experience for viewers using ad blockers

Wikia is not accessible if you've made further modifications. Remove the custom ad blocker rule(s) and the page will load as expected.