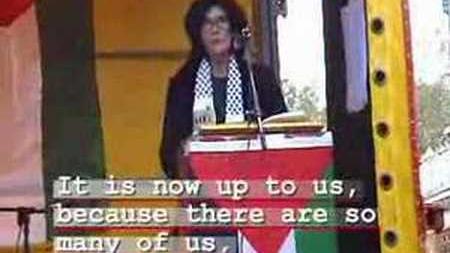 Gretta Duisenberg
(born 1942) is a dutch human rights activist, known chiefly for her marriage to Wim Duisenberg, pro-
Palestinian
and anti-
Israel
opinion.
Duisenberg was born as Greetje Nieuwenhuizen into a strict Protestant family in Heerenveen. She later studied nursing. Her first marriage was to the internist Bedier de Prairie, with whom she had three children. At that time she also started using the name Gretta. After their divorce, she became active in left-wing politics, human right causes, and was briefly involved with Hans van Mierlo, at that time the Dutch Minister of Defence. She married Wim Duisenberg when he was president of the Dutch National Bank.
Gretta Duisenberg came to international attention in 2002 when the media reported that the president of the ECB had a Palestinian flag hanging from his house in Amsterdam. Because of the media attention, her husband had the flag removed.
Gretta Duisenberg also came under fire when she announced her intention of collecting six million signatures as part of her campaign to draw attention to the Israeli occupation of the Palestinian Territories. She was asked how many signatures she'd been able to gather for the petition against the occupation and replied that 6,000 supporters had signed so far. And how many signatures would you like to collect, she was asked. Duisenberg hesitated for a moment and then said, "Six million". Critics stated that the figure was clearly an allusion to the number of Jewish victims of World War II.
In a discussion program aired on Dutch TV in November 2005, she stated to understand suicide bombings in light of the disparate conditions Palestinians live in. In the same program, she said I hope the Jews realise they can't take over the South of Amsterdam the same way they took over the West Bank! referring to the vandalism, complaints, and threats of legal action she received for hanging the Palestinian flag on her property. This statement caused controversy and further intensification of allegations of antisemitism. In July 2006, the Dutch Openbaar Ministerie (Public Prosecution), after an investigation following a complaint by Dutch lawyer Abraham Moszkowicz, decided not to prosecute, as the format of the specific TV programme was meant to incite fierce, possibly controversial and exaggerated reactions. This would be the second time the Dutch OM decided not to prosecute Duisenberg after allegations of antisemitism. Abraham Moszkowicz has since sued for a third time.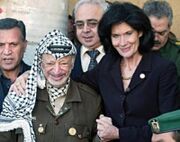 External links
---
| | |
| --- | --- |
| | Religion Wiki uses embedded video content from YouTube.com. We do not host or upload any videos, films, or media files. Therefore, Religion Wiki is not responsible for the accuracy, compliance, copyright, legality, decency, or any other aspect of the content of other linked sites. If you have any legal issues please contact the appropriate media file owners / host sites. |
Ad blocker interference detected!
Wikia is a free-to-use site that makes money from advertising. We have a modified experience for viewers using ad blockers

Wikia is not accessible if you've made further modifications. Remove the custom ad blocker rule(s) and the page will load as expected.