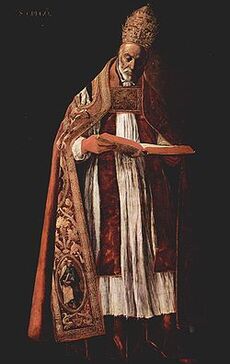 Gregorian Mass or usually Gregorian Masses are a series of thirty Holy Masses celebrated on thirty days - usually consecutively - for the repose of one deceased soul of a departed person. Gregorian Masses derive their name from Pope St. Gregory the Great, who was the first to introduce this practice. Pope St. Gregory the Great who wrote in the DIALOGUES (4:55; PL 77: 416-421) about a monk who obtained release from purgatory after thirty Masses were offered on his behalf.[1][2] The Catholic Church has declared the confidence of the faithful in the efficacy of Gregorian Masses to be pious and reasonable.
References
External links
Ad blocker interference detected!
Wikia is a free-to-use site that makes money from advertising. We have a modified experience for viewers using ad blockers

Wikia is not accessible if you've made further modifications. Remove the custom ad blocker rule(s) and the page will load as expected.