After the signing of the Oslo Accords, the Palestinian territories of the West Bank and Gaza Strip were divided into three areas (Area A, Area B, and Area C) and 16 governorates under the jurisdiction of the Palestinian National Authority.
West Bank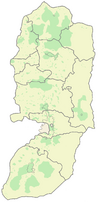 Name
Population
(2007)[1]
Area (km2)
Jenin Governorate
450,301
581
Tubas Governorate
69,615
372
Tulkarm Governorate
177,694
239
Nablus Governorate
555,847
592
Qalqilya Governorate
100,753
164
Salfit Governorate
66,136
191
Ramallah and Al-Bireh Governorate
410,328
844
Jericho Governorate
44,961
608
Jerusalem Governorate
415,942
344
Bethlehem Governorate
185,572
644
Hebron Governorate
710,898
1060
Total
3,117,047
5,640
Gaza Strip
References
ar:محافظات السلطة الوطنية الفلسطينية
gv:Kiannoortyssyn Kioneys Ashoonagh ny Palasteen
ja:パレスチナ自治区の行政区画
Ad blocker interference detected!
Wikia is a free-to-use site that makes money from advertising. We have a modified experience for viewers using ad blockers

Wikia is not accessible if you've made further modifications. Remove the custom ad blocker rule(s) and the page will load as expected.