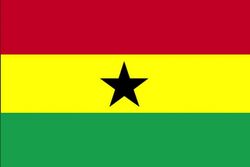 The Republic of Ghana is a country in West Africa. It borders Côte d'Ivoire (Ivory Coast) to the west, Burkina Faso to the north, Togo to the east, and the Gulf of Guinea to the south. The word Ghana means "Warrior King," and was the source of the name "Guinea" (via French Guinoye), which has been used to refer to the West African coast (reflected in the Gulf of Guinea).
Religion in Ghana
Ghana is a Christian-majority country, 68.8% of the population are Christians, predominantly Presbyterians, Methodists and Roman Catholics. Islam, predominantly Sunni, is the religion of 15.9% of the population and traditional African religions are followed by 8.5% of Ghana's people. Less than 0.1% of Ghana's inhabitants are Buddhists.
Christmas and Easter are national holidays in Ghana and have consequently become popular times for both Christians and non-Christians alike to travel to see their families.
See also
References
External links
| | |
| --- | --- |
| | This page uses content from the The Dhamma Wiki.'Dhamma Wiki content is released in the public domain. The Dhamma is free. The Buddha did not hold copyrights either. The sharing of the Buddha Dhamma is solely for the purpose of prolonging the buddhasasana through release. |
Ad blocker interference detected!
Wikia is a free-to-use site that makes money from advertising. We have a modified experience for viewers using ad blockers

Wikia is not accessible if you've made further modifications. Remove the custom ad blocker rule(s) and the page will load as expected.