Gedhun Choekyi Nyima (born April 25, 1989) is the eleventh Panchen Lama as interpreted by most Tibetan Buddhists.[1][2][3] He was born in Lhari County, Tibet. On May 14, 1995, Gedhun Choekyi Nyima was named the 11th Panchen Lama by the 14th Dalai Lama, Tenzin Gyatso. After he was nominated Panchen Lama, Chinese authorities arrested Gedhun Choekyi Nyima[4][5] and removed his family from Tibet. He has not been seen since May 17, 1995[6][7]. The son of two communist party members, Gyancain Norbu, was later named as Panchen Lama by the secular People's Republic of China.
Selection of the 11th Panchen Lama
Following the death of the 10th Panchen Lama in 1989, the search for an individual to be recognised as his reincarnation, by Tibetan Buddhists, quickly became mired in bureaucracy and controversy.[8]
Armed with Beijing's approval, the head of the Panchen Lama search committee, Chadrel Rinpoche, maintained private communication with the Dalai Lama in order to arrive at a mutually acceptable candidate for both the Dalai Lama and Beijing authorities concerning the Panchen Lama's reincarnation issue. [9] After the Dalai Lama named Gedhun Choekyi Nyima as the 11th incarnation of the Panchen Lama, Chinese authorities had Chadrel Rinpoche arrested and charged with treason. According to Tibet government in exile, he was replaced by Sengchen Lobsang Gyaltsen, so chosen because he was more likely to agree with the party line.[10] Sengchen had been a political opponent of both the Dalai Lama and the 10th Panchen Lama.[11]
The new search committee ignored the Dalai Lama's May 14 announcement and instead chose from a list of finalists; the list arbitrarily excluded Gedhun Choekyi Nyima. In selecting a name, lots were drawn from a Golden Urn, a procedure introduced to Tibet by the Chinese emperor in 1793.[12] This selection method is unrelated to the traditional Tibetan method of using possessions of the former Lama to identify his reincarnation. Chinese authorities announced Gyancain Norbu as the search committee's choice on November 11, 1995.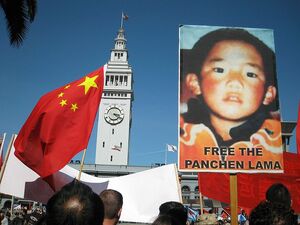 Whereabouts
The whereabouts of Gedhun Choekyi Nyima are unknown. Human Rights organizations claim that he and his family continue to be political prisoners, and has termed him the "youngest political prisoner in the world".[13][14] According to Chinese government claims, he is attending school and leading a normal life somewhere in China.[15] This cannot be verified by outside sources as no credible evidence has been provided to confirm or deny these claims.[15] The reason this evidence has been withheld, according to statements by Chinese authorities, is that his whereabouts are kept undisclosed to protect him[16]. Those who support Nyima as the 11th Panchen Lama call upon China's ruling party to prove that he is safe and happy.[17] As the promises of a secular, authoritarian regime well-known for widespread use of censorship[18] and propaganda[19] are rejected by vocal organizations such as the UNPO and Tibetan government in Exile, his supporters fear that he has been imprisoned or executed.[17]
The Committee of the Rights of the Child of the United Nations reviewed the Gedhun case on May 28, 1996. During hearings on the matter, Chinese authorities claimed for the first time to have "taken the child for his security"[20]. The Committee requested a visit with Gedhun Choekyi Nyima, supported by a campaign of more than 400 celebrities and associations petitioning for the visit, including eleven Nobel Prize winners.[21].
In May 2007, Asma Jahangir, Special Rapporteur on Freedom of Religion or Belief of the UN Human Rights Council, asked the Chinese authorities what measures they had taken to implement the recommendation of the Committee on the Rights of the Child, that the government should allow an independent expert to visit and confirm the well-being of Gedhun Choekyi Nyima while respecting his right to privacy, and that of his parents. In a response dated 17 July 2007, the Chinese authorities said: "Gedhun Choekyi Nyima is a perfectly ordinary Tibetan boy, in an excellent state of health, leading a normal, happy life and receiving a good education and cultural upbringing. He is currently in upper secondary school, he measures 165 cm in height and is easy-going by nature. He studies hard and his school results are very good. He likes Chinese traditional culture and has recently taken up calligraphy. His parents are both State employees, and his brothers and sisters are either already working or at university. The allegation that he disappeared together with his parents and that his whereabouts remain unknown is simply not true." This response did not answer the question about a visit or confirmation.[22]
References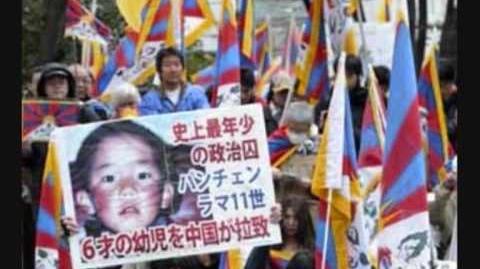 External links
Ad blocker interference detected!
Wikia is a free-to-use site that makes money from advertising. We have a modified experience for viewers using ad blockers

Wikia is not accessible if you've made further modifications. Remove the custom ad blocker rule(s) and the page will load as expected.