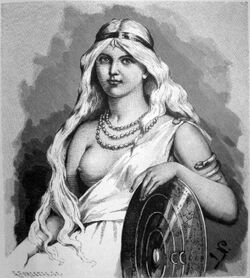 Fjölsvinnsmál
or
The Sayings of Fjölsvinnr
is the second of two Old Norse poems commonly published under the title
Svipdagsmál
"The Lay of Svipdagr". These poems are found together in several 17th century paper manuscripts with
Fjölsvinnsmál
. In at least three of these manuscripts, the poems appear in reverse order and are separated by a third eddic poem titled
Hyndluljóð
.
[1]
For a long time, the connection between the two poems was not realized, until in 1854 Svend Grundtvig pointed out a connection between the story told in
Gróagaldr
and the first part of the medieval Scandinavian ballad of
Ungen Sveidal
[2]
/
Herr Svedendal
/
Hertig Silfverdal
. Then in 1856, Sophus Bugge noticed that the last part of the ballad corresponded to
Fjölsvinnsmál
. Bugge wrote about this connection in
Forhandlinger i Videnskabs-Selskabet i Christiania 1860ææ
, calling the two poems together
Svipdagsmál
. Subsequent scholars have accepted this title.
[3]
In the first poem, Svipdagr enlists the aid of his dead mother, Gróa, a witch, to assist him in the completion of a task set by his cruel stepmother.
At the commencement of Fjölsvinnsmál, Svipdagr has arrived at a castle on a mountain top. There he encounters a watchman, Fjölsviðr, who tells him to be gone before asking him his name. Svipdagr conceals it, only revealing it later in the poem.
A game of question and answers ensues, wherein Svipdagr learns that Menglöð lives in the castle guarded by Fjölsviðr, and that the castle may not be entered by any save one: Svipdagr. He gives his true name and the gates are opened and Menglöð greets Svipdagr.
The poem is considered to be among the youngest of the Eddic poems. Nevertheless it is cryptic and some stanzas are corrupt.
See also
References
↑ McKinnell, John; Meeting the Other in Old Norse Myth and Legend, D.S. Brewer, 2005, p. 202.
↑ Ballad no. 70 in the second volume of his Danmarks gamle Folkeviser
↑ Einar Ólafur Sveinsson, "Svipdag's Long Journey," Hereditas, Folklore of Ireland Society, Dublin, 1975.
External links
Ad blocker interference detected!
Wikia is a free-to-use site that makes money from advertising. We have a modified experience for viewers using ad blockers

Wikia is not accessible if you've made further modifications. Remove the custom ad blocker rule(s) and the page will load as expected.