We Celebrate
the Feast of The Sacred Heart of Jesus.Christ,
in his appearances to Margaret Mary, promised these blessings to those who practice devotion to his Sacred Heart.
I will give them all the graces necessary for their state of life.
I will give peace in their families.
I will console them in all their troubles.
I will be their refuge in life and especially in death.
I will abundantly bless all their undertakings.
Sinners shall find in my Heart the source and infinite ocean of mercy.
Tepid souls shall become fervent.
Fervent souls shall rise speedily to great perfection.
I will bless those places wherein the image of My Sacred Heart shall be exposed and venerated.
I will give to priests the power to touch the most hardened hearts.
Persons who propagate this devotion shall have their names eternally written in my Heart.
In the excess of the mercy of my Heart, I promise you that my all powerful love will grant to all those who will receive Communion on the First Fridays, for nine consecutive months, the grace of final repentance: they will not die in my displeasure, nor without receiving the sacraments; and my Heart will be their secure refuge in that last hour.
The last promise has given rise to the pious Roman Catholic practice of making an effort to attend Mass and receive Communion on the first Friday of each month.
Great efficacy of converting people has been attached to the use of the image of the Sacred Heart. "Even at the hour of death, incredulous, indifferent, hardened souls have been converted by simply showing them a picture of the Sacred Heart, which sufficed to restore these sinners to the life of hope and love, in a word, to touch the most hardened. It would, indeed, be a great misfortune to any apostolic man to neglect so powerful a means of conversion, and in proof of this I will mention a single fact which will need no comment. A religious of the Company of Jesus had been requested by the Blessed Margaret Mary to make a careful engraving of the Sacred Heart. Being often hindered by other occupations, there was much delay in preparing this plate. ' This good father,' writes the saint, 'is so much occupied by Mon- signor d'Autun in the conversion of heretics, that he has neither time nor leisure to give to the work so ardently desired by the Heart of our Divine Master. You cannot imagine, my much-loved mother, how greatly this delay afflicts and pains me. I must avow confidently to you my belief that it is the cause of his converting so few infidels in this town. I seem constantly to hear these words : ' That if this good father had acquitted himself at once of his promise to the Sacred Heart, Jesus would have changed and converted the hearts of these infidels, on account of the joy He would have felt at seeing Himself honoured in the picture He so much wishes for. As, however, he prefers other work, even though to the glory of God, to that of giving Him this satisfaction, He will harden the hearts of these infidels, and the labours of this mission will not be crowned with much fruit.'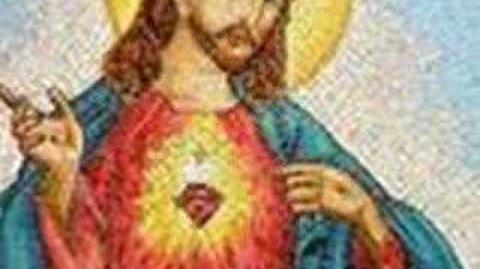 | | |
| --- | --- |
| | Religion Wiki uses embedded video content from YouTube.com. We do not host or upload any videos, films, or media files. Therefore, Religion Wiki is not responsible for the accuracy, compliance, copyright, legality, decency, or any other aspect of the content of other linked sites. If you have any legal issues please contact the appropriate media file owners / host sites. |
Ad blocker interference detected!
Wikia is a free-to-use site that makes money from advertising. We have a modified experience for viewers using ad blockers

Wikia is not accessible if you've made further modifications. Remove the custom ad blocker rule(s) and the page will load as expected.