Ad blocker interference detected!
Wikia is a free-to-use site that makes money from advertising. We have a modified experience for viewers using ad blockers

Wikia is not accessible if you've made further modifications. Remove the custom ad blocker rule(s) and the page will load as expected.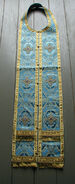 The epitrachelion (from Greek - επιτραχήλιον, "around the neck") is the stole worn by priests and bishops as the symbol of their priesthood. This liturgical vestment is worn around the neck with the two adjacent sides sewn or buttoned together, leaving enough space through which to place the head. It is usually made of brocade with seven embroidered or appliquéd crosses, one at the back of the neck and three down each side.
The priest wears the epitrachelion whenever he is serving as a priest. For some services, e.g., Vespers or Orthros, he wears the epitrachelion by itself. When he is fully vested for the Divine Liturgy, he wears the epitrachelion over the sticharion and under the zone and the phelonion.
If a priest is simply attending a service, he wears no liturgical vestments, but will put on his epitrachelion (and in Slavic traditions, his epimanikia) before receiving the Eucharist.bg:епитрахилro:Epitrahil