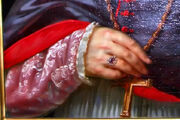 An
ecclesiastical ring
is a finger ring worn by a clergyman, such as a Bishop's ring.
Historical antecedents
St. Clement of Alexandria[1] says that a man might lawfully wear a ring on his little finger, and that it should bear some religious emblem --a dove for the Holy Spirit, a fish (ichthys) for Christ or an anchor. In any case the Acts of Saints Perpetua and Felicitas (c. xxi), about the beginning of the third century, mention the martyr Saturus took a ring from the finger of Pudens, a soldier who was looking on, and gave it back to him as a keepsake, covered with his own blood.
---
↑ Clement of Alexandria, Paedagogus, III, c. xi.
Ad blocker interference detected!
Wikia is a free-to-use site that makes money from advertising. We have a modified experience for viewers using ad blockers

Wikia is not accessible if you've made further modifications. Remove the custom ad blocker rule(s) and the page will load as expected.